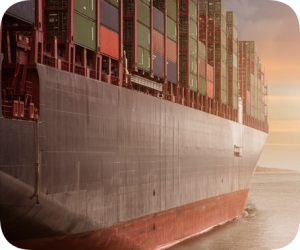 On an average day, at least 10 percent of global trade passes through Egypt's Suez Canal aboard more than 50 ships. That hasn't been the case since Tuesday, however, when a 200,000-ton container ship ran aground and became lodged in the narrow canal. Although tugboats and earthmovers have attempted to remove the enormous obstruction, so far their efforts have failed as trade on this vital waterway has come to a halt. 
"I have never seen a container vessel this large grounded so hard in a canal that way," said Lindsay Malen-Habib, president of the American Salvage Association. "This is a first that I can remember." The global shipping industry has already been suffering over the past year from the pandemic's significant impact on supply chains. If the Suez Canal remains blocked for an extended period of time, it could further disrupt multi-billion dollar shipments of oil from the Middle East to Europe along with other important goods. 
"Every day, 50 vessels on average go through that canal, so the closing of the canal means no vessels are transiting north and south," said Salvatore Mercogliano of Campbell University in North Carolina. "Every day the canal is closed… container ships and tankers are not delivering food, fuel and manufactured goods to Europe and goods are not being exported from Europe to the Far East." Ships that cannot pass through the Suez Canal may be forced to turn back and sail around Africa in order to reach their European destinations. And while this type of canal blockage is rare, experts worry that it could become more common as skyscraper-sized ships continue to cram through narrow transportation chokepoints.
Questions:
How could the blockage of the Suez Canal potentially affect global trade?
Do you think 200,000-ton ships should navigate narrow waterways like the Suez Canal? Why or why not?
Sources: Jon Gambrell and Samy Magdy, "Massive Cargo Ship Becomes Wedged, Blocks Egypt's Suez Canal," Associated Press, March 24, 2021; Salma El Wardany  and Ann Koh, "Suez Canal Remains Choked as Elite Team Tackles Stuck Ship," Bloomberg, March 25, 2021.