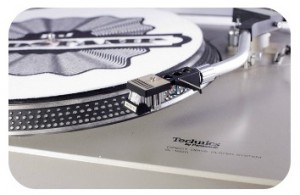 If you've listened to hip hop or dance music made from the 1980s onward, then you've heard the Technics SL-1200 turntable in action. For decades these decks were the preferred hardware for DJs of all skill levels. Although a single turntable could cost between $500 to $700, aspiring selectors saved up their money until they had enough for two. After that, they had equipment for life: the durable SL-1200 could be used for spinning and scratching with little need for repairs down the line. The turntable eventually became legendary in the music world. In fact, if you've ever heard a MC mention "the 1s and 2s" in a song, they're talking about the SL-1200.
Unfortunately, declining vinyl sales from the 1990s through the 2000s led to the SL-1200's discontinuation in 2008. DJs and record enthusiasts around the world immediately protested the decision and begged Technics' parent company Panasonic to bring the decks back. At the same time, sales of vinyl records began to increase as music consumers once again became interested in this vintage format. With demand for wax high, Panasonic gave in to the pressure and announced that the SL-1200 would return in 2016.
So far, though, the comeback has not been celebrated by the same people who spent years waiting for its return. While the new model is nearly the same as its predecessor in design, the two differ significantly in price. A single Technics SL-1200 now sells for $2,800, roughly four times the original cost. This effectively prices out casual music fans as well as aspiring DJs who would need to buy two of these expensive decks. That's because Panasonic is marketing the new SL-1200s towards wealthy "audiophiles" looking for the highest sound quality possible. Although the brand had a built-in reputation that most companies could only dream of, Panasonic felt that targeting DJs and younger fans wouldn't have justified the cost of the SL-1200's revival. As a result, big names from the worlds of hip hop and dance feel betrayed and have let the music media know it. Only time will tell if these criticisms spoil Panasonic's plans to rebrand the workhorse SL-1200 turntable into a luxury brand.
Questions:
What are the risks that come with rebranding a famous product?
Can Panasonic successfully sell the SL-1200 to a more upscale market or should the company have stuck with its loyal market of DJs and casual fans?
Source: Jonathan Soble, "A Turntable Reborn Turns Its Back on Its Hip-Hop Legacy," The New York Times, January 1, 2017. Photo by DJpedia.