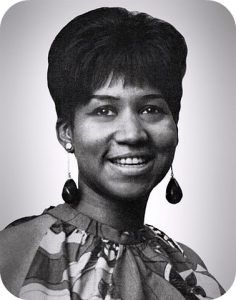 Last week the legendary soul and gospel singer Aretha Franklin passed away at the age of 76. Her legacy includes a wide catalogue of classic hits that will long be remembered by music lovers, especially her signature song "Respect." But while she earned millions of fans over the years with the anthemic tune, she unfortunately did not earn millions of dollars directly from it. That's because all of the song's radio royalties have gone to the estate of its writer, Otis Redding, as well as the company that published it.
So for many people in the music industry, "Respect" stands as a prime example of the unfair nature of current copyright laws. After all, not only did Franklin completely change the sound of the original song in her 1967 version, but she also added the iconic lyric where she spells out "R-E-S-P-E-C-T." Despite these contributions, though, U.S. copyright law requires radio broadcasters to pay royalties only to the writer and publisher of a song, not the artist. While no company will say how much "Respect" has earned through royalties, the licensing agency BMI estimates that the song has been played 7.4 million times on commercial radio. In fact, one economist claims that "Respect" has made $500,000 over the last five years alone, with 40 percent of that amount coming from radio royalties.
As a result of its incredible success and powerful message, advocates in the music industry have long depended on Franklin's anthem as a rallying cry for change. The first major victory for copyright advocates came in the 1990s when laws were passed that allowed artists to collect royalties from Internet and satellite radio. Nevertheless, the legislation exempted songs like "Respect" that had been recorded before a 1972 change in copyright law. A 2014 bill aptly named the Respect Act attempted to change this, as does a current bill on the docket called the Music Modernization Act. Along with facing strong opposition in the Senate, satellite radio companies also object to the legislation since it would exempt terrestrial radio stations from making such payments. Meanwhile, these traditional broadcasters claim that changing the law "could reduce the variety of music radio stations play, and all but eliminate the possibility of new artists breaking onto the scene."
Questions:
Should legislators change music copyright laws so that artists can collect royalties from radio play? Why or why not?
Why are both satellite and traditional radio stations opposed to the legislation like the Music Modernization Act?
Source: Ben Sisario, "How Aretha Franklin's 'Respect' Became a Battle Cry for Musicians Seeking Royalties," The New York Times, August 17, 2018.