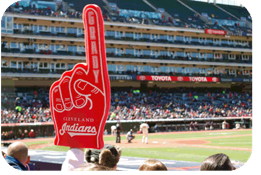 Some products in our society become so commonplace that it can be difficult to remember a time when they weren't around. The oversized foam finger proudly waved at sporting events across the nation certainly fits that description. But the world had to wait until 1977 for this iconic product's first iteration. A Texas woodshop teacher named Geral Fauss cut the first big digit out of poster board in anticipation of his high school's upcoming football game against a heated rival. Although students took instantly to the novelty hands, interest in them soon faded after the school lost their big game.
Fauss didn't take defeat lying down, however. By the next year, team spirit in his home state had once again reached a fever pitch as the University of Texas prepared to take on Notre Dame in the Cotton Bowl. Over a three-week span before the game, Fauss jig sawed 400 finger signs out of Masonite in his garage—200 with the single raised index finger, another 200 in the Longhorn's famous "hook 'em" gesture. After camping outside the stadium the night before, on game day he got hassled by a security guard once he tried to set up shop in the parking lot. After speaking with the person in charge of selling novelties, though, Fauss agreed to part with 35 percent of his sales in exchange for the privilege to sell the signs inside the stadium. He sold his entire stock within half an hour.
Fauss knew he had a hit product in his hands, but the signs still needed a little tweaking before they were ready for the mass market. After all, the wood-particle Masonite he used was heavy and could be transformed into a fearsome weapon in the event of a football-related brawl. He eventually settled on light, durable polyurethane foam that made the fingers cheaper to produce as well as ship. The material also gave Fauss the idea to cut out a little slit at the bottom of each sign so that customers could actually wear the hand rather than simply hold it. After selling out his stock again at 1979's Sugar Bowl, Fauss quit his teaching job and started Spirit Industries. The company now employs 40 to 75 people (depending on the season) and licenses production of the foam fingers to nine other companies.
Questions:
What lesson can be learned from Geral Fauss's story?
Does luck sometimes play a role in the success of a new product?
Source: Leigh Buchanan, "Loud and Proud," Inc., February 1, 2013. Photo courtesy of Chris Metcalf.