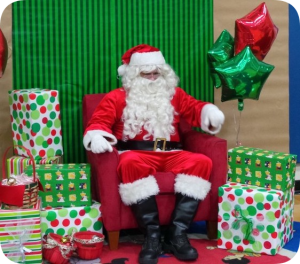 With the holiday shopping season in full swing, retailers are hoping that they can attract lots of Christmas customers to offset the losses of an especially hard year. In normal circumstances, stores would roll out the red carpet for Santa Claus and his elves to set up shop and learn about exactly what kids wanted to see under their trees. But due to the pandemic, this year mall Santas will be following extra precautions that could take away from the usual magic of the season.
Along with enforcing mask requirements, many Santas are social distancing and setting up plexiglass barriers between themselves and the public. Some retailers have gotten creative with their safe North Pole setups, such as a Richmond mall that placed Santa into a big acrylic snow globe. Meanwhile in Gruene, Texas, Cowboy Kringle will kindly ask young cowpokes to sit for pictures on a saddle positioned six feet away. Other companies such as Macy's and the Mall of America have canceled in-person Santa visits entirely and instead moved them online.
According to the staffing firm Hire Santa, virtual bookings have increased tenfold this Christmas season. "Everything is different this year, but people are finding a way to keep that traditional Santa experience," said Hire Santa owner Mitchell Allen. "It's unexpected, to be honest." Still, booking companies say that this spike of online appearances cannot make up for the 40 percent overall drop in appointments. For those who are continuing in-person Santa meetups, devising safety protocols that protect both children and St. Nick has been a tremendous challenge. "It's like re-creating the wheel with every client," said Renee Davis, co-founder of the events company Santa Express Central. "I'm working harder than I ever have in my life."
Questions:
How do seasonal promotional events like meetups with Santa Claus normally benefit retailers?
Do you think that malls and retailers should be holding in-person visits with Santa this year? Why or why not?
Source: Abha Bhattarai, "Mall Santas Brave the Pandemic With Plexiglass Barriers, Sanitation Elves and Snow-Globe Bubbles," The Washington Post, November 25, 2020.