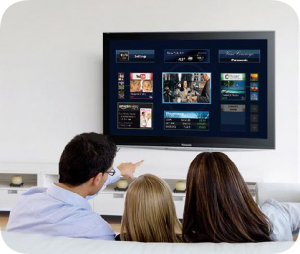 2019 was the year that the so-called "streaming wars" got serious. Disney+ and Apple TV+ launched in an effort to compete against Netflix while established broadcasters like NBC and HBO announced that their streaming services would go live in mid-2020. As the streaming marketplace grew increasingly crowded, industry insiders worried that media companies were offering too much content to consumers. According to research by the cable network FX, these fears could prove to be true: last year a total of 532 scripted shows aired on television and streaming services. 
That number represents a 52 percent increase from the 349 shows that were available to watch in 2013, the year that House of Cards debuted on Netflix. Since that program broke the streaming barrier, Netflix has poured billions and billions of dollars into creating new content. In fact, the streaming giant plans to spend more than $17 billion on new shows and movies this year. In response, TV networks have spent big to regain the rights to hit shows like Friends and The Office for their own streaming services. They're also splashing cash on original programming as well. Apple, for instance, reportedly spent $120 million producing the first season of its flagship series The Morning Show. 
With so many shows available and with even more on the way, consumers now have enough content to last a lifetime. On the other hand, there are so many shows that no one could possibly have the time to watch them all, not even critics. "It's an embarrassment of riches, but also a calamity of overkill," said Matt Roush, senior critic at TV Guide Magazine. In addition, FX's tally of more than 500 currently airing shows only took scripted programming into consideration. When content like reality TV, soap operas, and children's series gets included, the total number of shows increases to well over 1,000. That number should only grow larger in the years to come as networks and streaming services continue to debut all sorts of new programming. 
Questions:
What are the advantages and disadvantages of offering so much TV and streaming content to consumers?
Do you think new streaming services like Disney+ or Apple TV+ will be able to compete against Netflix in the long term? Why or why not?
Source: John Koblin, "Peak TV Hits a New Peak, With 532 Scripted Shows," The New York Times, January 9, 2020.