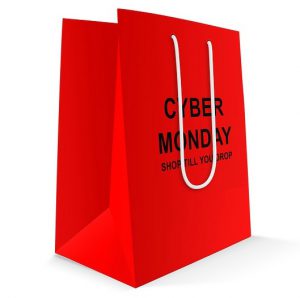 Last week we took a look at how analysts were lowering their expectations for Black Friday, which is traditionally the country's biggest annual shopping event. While retailers managed to generate about $5 billion in sales on the day, this year's take was decidedly lower than in years past. In some cases store traffic was non-existent, leading at least one newscaster to vent their frustrations about the poor turnout on air. But while some brick-and-mortar stores stayed empty, online retailers racked up $3.54 billion in sales.
Still, even this 15 percent increase from last year can't compare with the money that e-retailers earned on Cyber Monday. Since starting in 2005, this online-focused sales event has largely remained in the shadow of Black Friday's doorbuster deals. As online shopping rose in prominence, however, so did Cyber Monday. After clearing $5.6 billion in 2016, this year retailers are expected to bring in a record $6.6 billion in sales. That means Cyber Monday has overtaken Black Friday as the biggest single-day shopping event in the U.S.
Despite Cyber Monday's breakout success, though, analysts don't think the holiday will eventually rival Black Friday's early 2000s heyday. That's because both sales events share the same problem: today's consumers are more accustomed to frequent discounts rather than annual blowout sales. "[Cyber Monday]'s not as exciting as what the marketing makes it out to be," said Guru Hariharan, CEO of the software firm Boomerang Commerce. "The majority of these 'deals' have been around since early November, or late October." Sales events like Cyber Monday and Black Friday could disappear entirely if retailers continue to focus on offering everyday deals instead of big sales events. For the time being, though, both shopping holidays are here to stay. (As is Giving Tuesday, an annual event that encourages people to donate their money and time to charity. Click here for more information about the day, and click here to read our post from last week for some tips about how to find the right charity for your needs.)
Questions:
Why was customer traffic so low at many brick-and-mortar retailers on Black Friday?
Do you think Cyber Monday will continue to grow in popularity among consumers?
Sources: Jean Baptiste Su, "Report: Cyber Monday Hits New Record At $6.6 Billion, Over $1 Billion More Than 2016," Forbes, November 28, 2017; Nandita Bose and Sruthi Ramakrishnan, "Cyber Monday Sales Jump 17 Percent, on Pace for Record," Reuters, November 27, 2017; Kate Taylor, "Stores Were Emptier Than Ever This Black Friday — but Sales Are Soaring," Business Insider, November 25, 2017.