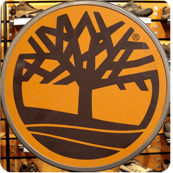 For decades the brand name Timberland has been synonymous with rugged outdoor footwear. At least, that's how some people see the iconic boot company. If you're a hip hop fan, you may associate "Timbs" with the dozens of rappers who have name-dropped the brand over the years. And if you happen to be Italian, you're more likely to wear Timberland boots for a fashionable stroll about town, not a long hike in the woods.
All these overlapping interpretations of Timberland's brand drove sales for years in demographics across the board. By 2006, though, the company faced an identity crisis as sales started to slump. Revenue continued to flatline through 2012 as Timberland lost market share in the Americas. The company responded by cycling through a number of marketing and product strategies that did little to offset its decline. That's when Timberland executives started to think about exactly how consumers perceived their products. After all, for years the company had simply coasted with outdoorsy marketing campaigns while the brand almost inadvertently captured interest from other markets.
In order to learn more about whom they were selling to, Timberland hired an outside firm to conduct a two-year customer study. Surveying more than 18,000 people from eight countries, the company was able to root out its problems and determine its ideal customer. Rather than rugged outdoorsmen, Timberland found that their products were best suited for city dwellers who occasionally visited the outdoors. After all, brands like North Face and Patagonia already commanded the loyalties of the most dedicated campers and climbers. Timberland, on the other hand, could appeal to customers who wanted a fashionable pair of boots that can look good at work or hold up during a long walk in the park. The company changed its marketing strategy accordingly to show young professionals wearing the brand's boots in an urban environment. The makeover appears to have worked in the short term: sales at Timberland from this quarter are up 15 percent compared to last year. Meanwhile, the company is also enjoying higher profit margins at a time when the rest of the retail industry has seen sales stagnate.
Questions:
What did extensive market research prove to Timberland?
Does the company need to do additional research going into the future?
Source: Sarah Halzack, "How Timberland Used Customer Data to Reboot Its Brand," The Washington Post, January 2, 2015. Photo by: Tom Maliery.