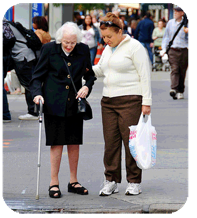 In order to turn a successful business into a successful franchise, an entrepreneur needs a strong concept along with good people to implement it. That's exactly what Allen Hager set out to do when he launched his home health care company, Right at Home, as a franchise nearly 20 years ago. By expanding the business plan and setting strict hiring policies, Right at Home has grown into a company with nearly 400 locations across the world and $265 million in annual revenue.
According to the U.N., by 2050 more than 2 billion people across the world will be over sixty. In the more immediate future, America's baby boomers are reaching an age where more and more of them require additional care. For many in this willful generation, though, assisted living facilities and nursing homes are out of the question, which makes in-home care services like Right at Home especially appealing. The Omaha-based caregiver has experienced such quick growth in part because it doesn't rely on government or insurer reimbursement. Clients often pay cash for services not provided by Medicare or other long-term plans. Increasingly, though, some employers turn to home health care as a cheaper alternative to hospital stays and future treatment.
Right at Home also succeeds because of the people it hires. Unlike many home caregivers, Right at Home employs nurses rather than personal aides and provides two weeks of intensive training for franchisees. Setting up new locations is also inexpensive when compared to other franchising operations. After a $45,000 franchise fee, new Right at Home owners can expect to spend an additional $80,000 on office space, marketing and recruiting. Depending on the services needed for a particular client, employees can earn as much as $50 an hour. Right at Home has its share of competitors, however, and it will need to stay committed to high quality service as it continues to expand.
Questions:
What makes Right at Home a particularly attractive franchise opportunity?
Will the government and private insurers support home health care in the future?
Source: Carol Tice, "Healthy Franchise: How Right at Home is Banking on the Senior Boom," Forbes, May 27, 2014. Photo by Ed Yourdon.