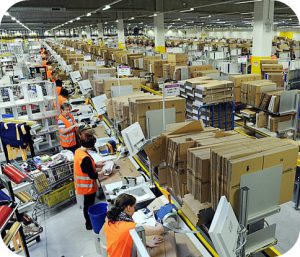 Amazon's market capitalization recently hit $1 trillion, placing the e-commerce giant on a level of success shared only with Apple. What's more, last year the company's revenue topped out at $178 billion, about a 40 percent increase from 2016. These factors allowed CEO Jeff Bezos to claim the title of world's richest person as his net worth climbed past the $150 billion mark.
According to critics, though, Amazon's workers have been largely left out of this bonanza of profit. In fact, a recent investigation discovered that the company is one of the top employers of people in the Supplemental Nutrition Assistance Program (SNAP), formerly known as "food stamps." In Arizona, for instance, as many as one in three of Amazon's employees relies on SNAP assistance. Critics also point to the harsh labor conditions in some of the company's warehouses, where employees walk for miles every day with few breaks.
To combat this criticism, Amazon announced this week that the company will raise its minimum wage to $15 an hour starting November 1. This decision affects 250,000 current employees along with an additional 100,000 seasonal workers who will join up during the holiday season. Staffers at Amazon's recent acquisition Whole Foods will also receive the pay bump, a move which could affect the unionization efforts currently underway at the grocery chain. Meanwhile, employees who already earn more than $15 an hour will receive raises. "We listened to our critics, thought hard about what we wanted to do, and decided we want to lead," said Bezos in a statement. "We're excited about this change and encourage our competitors and other large employers to join us."
Questions:
What are the benefits and drawbacks of Amazon's minimum wage increase?
Do you think other large employers should follow Amazon's lead and change their minimum wage policies? Why or why not?
Sources: Laura Stevens, "Amazon to Raise Its Minimum U.S. Wage to $15 an Hour," The Wall Street Journal, October 2, 2018; Bill Chappell and Laurel Wamsley, "Amazon Sets $15 Minimum Wage For U.S. Employees, Including Temps," NPR, October 2, 2018. Photo by Scott Lewis.