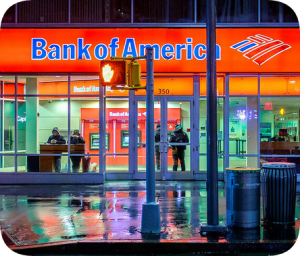 According to consumer watchdogs, for years Bank of America charged customers a variety of "junk fees" while also mishandling accounts. Not only did the financial giant withhold perks that were promised to some credit card holders, but it also double-charged overdraft fees and secretly opened cards in customers' names without their knowledge. As a result, Bank of America received a $150 million fine from the Office of the Comptroller of the Currency and the Consumer Financial Protection Bureau (CFPB), which both oversee the banking industry.
"These practices are illegal and undermine customer trust," said Rohit Chopra, director of the consumer bureau. "The CFPB will be putting an end to these practices across the banking system." Regarding overdraft fees, regulators said that Bank of America would first charge a $35 "insufficient funds" penalty against customers when they went over their limit. If a merchant then tried to collect this money through a resubmitted request for payment, the transaction would go through and result in another $35 charge for the customer. Bank of America also failed to provide sign-up bonuses for credit card users who opened their accounts over the phone or in person. 
Investigators also uncovered incidents where employees signed up unsuspecting customers for new cards in order to meet sales goals. Still, the CFPB said these fakes only made up "a small percentage" of new accounts. In contrast, a few years ago Wells Fargo opened thousands upon thousands of accounts without customers' knowledge, resulting in billions of dollars in fines. In Bank of America's case, regulators were mainly focused on curbing the institution's use of "junk fees." To avoid similar repercussions, many other U.S. banks have announced changes to their overdraft policies.
Questions:
Why did federal regulators levy a $150 million fine against Bank of America?
Do you think Bank of America was sufficiently punished for its actions, or should firms face criminal charges when they break the law? Why or why not?
Source: Emily Flitter, "Bank of America Fined $150 Million Over 'Junk Fees' and Fake Accounts," The New York Times, July 11, 2023. Photo by Steven Pisano.