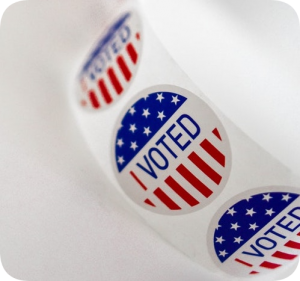 Today is election day, and major companies across the country are taking measures to ensure that their employees can go out and vote. While Bank of America workers will receive three hours of paid time off to go to the polls, Best Buy stores will remain closed until noon so staffers can vote in the morning. Paypal offered paid half days for employees who volunteer at polling places. "Companies can't do everything, but we can function in civil society in a way that really helps to encourage and enable civic participation," said Paypal's head of corporate affairs Franz Paasche.
Two years ago, executives from Paypal, Patagonia, and Levi Strauss formed an organization called Time to Vote that encourages companies to get employees involved in the electoral process. The initiative now has over 1,700 members, with similar organizations gathering hundreds of participating companies as well. Time to Vote and other initiatives operate voter registration programs and provide people with nonpartisan voter educational tools.  
Some companies have long offered employees time off to vote, such as Citi and Gap which will both provide staffers with additional paid hours to vote today. Still, not every company grants employees the opportunity to participate in elections. In fact, workers at Amazon have been advocating for time off on Election Day to no avail, even at one point threatening to shut down warehouses if they did not receive paid leave to vote. According to a 2014 study from Pew Research Center, as many as one-third of registered voters can not vote because of conflicts with work or school. 
Questions:
What are some major companies doing to ensure that employees have enough time to vote today?
Do you think companies like Amazon should provide employees with paid time off to vote? Why or why not?
Source: Kate Kelly and Sapna Maheshwari, "Paid Time Off, Free Fries: How Corporate America Is Getting Out the Vote," The New York Times, October 23, 2020.