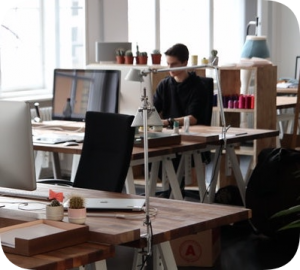 When the pandemic hit the U.S. last year, millions of Americans suddenly went from commuting to the office every weekday to working from home on their laptops. While it was difficult for some people to adjust to this abrupt change, many others became accustomed to remote work quickly, and they would very much like to continue doing just that. As a result, a number of companies are experimenting with "hybrid offices" in which employees come in a couple days of the week and work home the rest of the time. 
For instance, a financial services firm in St. Paul, Minnesota, recently reopened its offices but has allowed employees to continue working from home. The company encourages its staff of 3,000 to come in anytime of the week, with 17 percent of employees opting in so far. Mondays and Wednesdays are the most popular days at the office as people look to ease into the weekend at home. "Not a chance for Fridays," said chief human resources officer Kristi Fox. "No one wants to come into the office then, if they can help it." 
Convincing employees to consider coming in on Fridays is one of many uncertainties that companies face when dealing with hybrid offices. "What makes hybrid work kind of interesting is that it's the only kind of work we don't know how to do," said Ethan Bernstein, a management professor at Harvard Business School. "People mastered working from home. In-person is the way things were. But there are so many ways to get hybrid wrong." Other companies are trying flex schedules where employees are required to come to the office for two or three days per week. "We considered all options, including staying fully remote, which we ruled out pretty fast because we really missed in-person collaboration," said Alyson Watson, founder of a San Francisco-based startup that recently implemented flexible scheduling. "Having some structure is a way of leveling the playing field."
Questions:
What are some challenges that companies encounter when implementing hybrid offices?
Which method of work do you think you would prefer the most: working from home, working at the office, or a hybrid of both?
Source: Krithika Varagur, "Master the Politics of the New Hybrid Office," The Wall Street Journal, June 27, 2021.