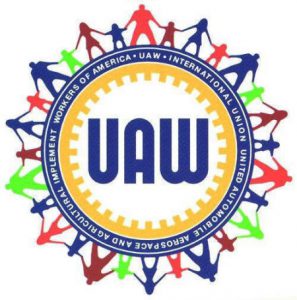 On Monday around 48,000 General Motors employees walked off their jobs and onto picket lines after the United Auto Workers failed to reach a new agreement with the company. Along with improved pay and health benefits, the striking workers also want to keep plants open to ensure job security. "Our members have been very clear about what they will and will not accept from this contract," said UAW Vice President Terry Dittes. "We are standing up for fair wages, we are standing up for affordable, quality health care. We are standing up for our share of the profits. We are standing up for job security for our members."
Since the UAW last negotiated a contract with GM in 2015, the automaker has earned more than $27.5 billion in profits. Experts say that the causes of today's conflict go back to a 2007 strike where the union conceded a number of benefits in order to keep the company afloat during the recession. "They gave up holidays, made concessions on wages and other things to save the company," said Kristin Dziczek from the Center for Automotive Research. "Since then, there has been 10 very profitable years. It is hard for the company to plead poverty because they have been posting healthy profits." 
The UAW claims it deserves a bigger piece of those profits, namely in the form of a guaranteed wage of at least $30 an hour for employees who have put in three or four years at the company. Since the signing of the 2007 contract, GM has increasingly relied on temporary workers who earn much less than their unionized counterparts. "You could be on the line earning $33 and the person next to you is making $15 an hour as a temp worker," said Harley Shaiken, a professor of labor relations at the University of California at Berkeley. Striking workers want GM to either hire fewer temps or else develop a way to turn them into full-time employees. As things stand now, however, there's no sign that GM will budge on any of the union's demands anytime soon. With uncertainty surrounding the U.S. auto market, experts predict the company will dig in for a fight while the UAW likely does the same.
Questions:
What are the main demands of the workers striking against General Motors?
Do you think General Motors should agree to the UAW's demands? Why or why not? 
Sources: Kate Gibson, "What Striking Autoworkers Want From General Motors," CBS News, September 16, 2019; Corky Siemaszko, "General Motors Strike Not Likely to Be Resolved Anytime Soon: Experts," NBC News, September 16, 2019. Photo by Clyde Robinson.