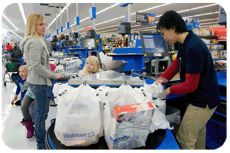 For years, Walmart has been criticized for not adequately sharing its success with its employees. After all, the retailer is not only the largest private employer in the U.S. but also the largest retail chain in the world. With so much capital at its disposal, critics have long argued that Walmart has enough resources to spend on its staff. And now at long last it appears the retailer agrees. Last month Walmart announced a plan that will raise the wages of more than 500,000 employees to $9 an hour by April. The salaries of all U.S. workers will then be kicked up to a minimum of $10/hour by 2016.
With portions of the economy recovering steadily, companies are adding jobs at their strongest rate since the late 1990s. As a result, job seekers have more choices about where they'd like to work. Often this means they'll choose whoever pays more, a fact that was causing problems for companies like Walmart who stick closely to the federal minimum wage of $7.25. With its new payment policy, however, Walmart hopes that it will be able to retain the best employees for longer periods of time rather than deal with high turnover. "Wal-Mart's move to raise their employee pay base is a sign that the labor market has already tightened," said economist Joel Naroff. "Their action could create a floor under wages and others may need to follow in order to retain and attract workers."
Indeed, some companies are already scrambling to match Walmart's wages. Less than a week after the retailer's announcement, TJ Maxx announced that it will raise wages to at least $9/hour starting in June. Experts predict that the discount clothing retailer will be just the first in a long line of imitators of Walmart's plan. "What I've been telling people is Wal-Mart just raised the federal minimum wage," said retail expert Maryam Morse. Still, these small pay increases come at a mighty price for a company's bottom line. All told, Walmart's wage increases and other employee programs will cost about $1 billion, although the retailer is confident that a happier workforce will be well worth the price.
Questions:
Will Walmart's pay action lead to an increase in the federal minimum wage?
Is pay the primary factor employees consider when looking for a job?
Source: Paul Ziobro and Eric Morath, "Wal-Mart Raising Wages as Market Gets Tighter," The Wall Street Journal, February 19, 2015; Krystina Gustafson, "Wal-Mart Pay Hike Starts a Wage War," NBC News, February 25, 2015. Photo by: Walmart.