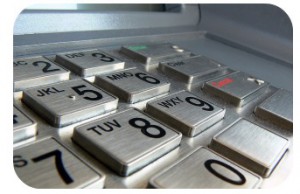 If you're in need of cash in a pinch, you'd better hope that your bank has an ATM located nearby. For the 10th consecutive year, the fees charged by banks for usage of ATMs by non-customers has risen to a record average of $4.57. That number is actually the combination of two separate fees: one charged by ATM owners for non-customers and another by the account holder's bank for withdrawing out-of-network. In 1998 the combination of these charges amounted to just $2, meaning that ATM withdrawal fees have grown by 132 percent to the present day.
While this practice nets more than $6 billion annually for big banks, consumer advocates condemn ATM fees as unfair for the public. After all, people are simply trying to gain access to their own money. "In my view, it is unacceptable that Americans are paying a $4 or $5 fee each time they go to the ATM," said Senator Bernie Sanders, who proposed capping ATM fees at $2 when he was running for the Democratic presidential nomination. His former opponent Hillary Clinton agrees, calling the fees "usurious"  on The Late Show with Stephen Colbert. Despite these big name endorsements, however, no legislation has yet been proposed to reduce ATM fees.
Still, there is some good news for consumers when it comes to bank fees: overdraft charges fell this year for the first time in nearly two decades. "The average overdraft fee has been increasing year in and year out for 17 consecutive years and that streak has been broken this year," said Greg McBride, chief financial analyst for Bankrate. "I think it's too early to say that we've reached the peak, particularly because we have seen more increases than decreases [among banks surveyed]."
Questions:
Should the government place a cap on ATM fees for out-of-network withdrawals?
Why do you think bank overdraft fees fell in 2016 after 17 years of increases?
Source: Jana Kasperkevic, "ATM Fees Reach Record $4.57 High – and Continue Lucrative Payday for Banks," The Guardian, October 5, 2016. Photo by William Grootonk.