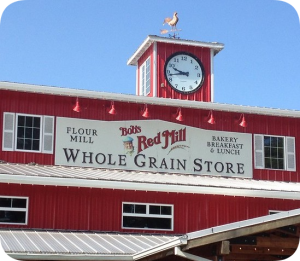 Since 1978, Bob's Red Mill has made high quality whole-grain products that are staples of upscale grocery stores across the country. The California company generated more than $50 million in sales in 2018 and employs nearly 600 people. Although staffers at Bob's Red Mill enjoy wide-ranging benefits including profit sharing, their stake in the company got even bigger at a recent birthday party for founder Bob Moore.
During a speech in front of many employees, the 91-year-old entrepreneur announced that he had transferred ownership of Bob's Red Mill to his staff. Moore received many buyout offers from interested investors over the years but ultimately decided to leave the whole operation in his workers' hands. "In some ways I had a choice," said Moore. "But in my heart, I didn't. These people are far too good at their jobs for me to just sell it." 
Instead of selling to an outside party, his staff are now part of an employee stock ownership plan (ESOP) that grants each worker a stake in Bob's Red Mill. Under this structure, employees will receive annual reports about the value of their holdings. When they retire or get another job elsewhere, the company will pay out whatever the value of that account has grown to. And since Bob's Red Mill has expanded between 20 to 30 percent every year since 2004, those payouts could eventually be substantial. Along with continuing to provide for his employees after his retirement, Moore also wanted to give his staff long-term incentives to maintain the company's success. "The harder they work, the more they get," said Moore.
Questions:
How do employee stock ownership plans motivate staffers to perform better at their jobs? 
Do you think more companies should follow the lead of Bob's Red Mill and include employees in their ownership structures? Why or why not?
Sources: Jeanne Sahadi, "Bob's Red Mill Founder is Still Working in His 90s and Loving It," CNN, February 14, 2020; Dana Tims, "Founder of Bob's Red Mill Natural Foods Transfers Business to Employees," The Oregonian, February 17, 2020. Photo by John Fladd.