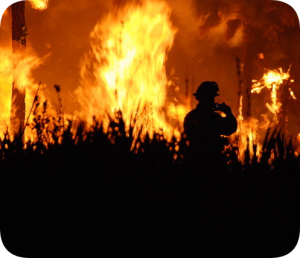 So far this year nearly 50,000 fires have been detected in the Brazilian Amazon rainforest, the most recorded in almost a decade. According to international experts, the majority of these fires are not simply natural occurrences. In fact, a 2016 report from the United Nations' Food and Agriculture Organization found that cattle farmers were responsible for 80 percent of deforestation in Brazil. These enormous agricultural operations often burn rainforest in order to clear land for cattle grazing. Experts believe that cattle farmers are once again to blame for recent wildfires, especially due to policies supported by Brazil's new president that allow for greater access to protected lands. 
In response to this destruction, a number of clothing companies have announced that they will stop buying leather from Brazil. On Thursday H&M said it would not purchase Brazilian leather "until there are credible assurance systems in place to verify that the leather does not contribute to environmental harm in the Amazon." The apparel conglomerate VF Corporation made a similar pledge last week that its brands like Timberland and North Face would boycott the Brazilian leather industry. H&M says that it only receives a minor amount of leather from the South American country, with the majority of its stock coming from Europe. Still, as the world's second largest clothing retailer, any minor changes to H&M's supply chain will have global repercussions as the company searches for new suppliers. 
While it remains to be seen how the leather boycott will affect Brazil's policy towards the rainforest, some organizations argue that foreign companies should be doing even more to fight deforestation. Investigators from Sweden and Norway have started looking into the Brazilian operations of agribusinesses like Cargill and Bunge to see if they're doing their part or possibly contributing to the problem. 
Questions:
Why are clothing companies like H&M boycotting the Brazilian leather industry?
How could H&M's boycott of Brazilian leather affect global supply chains?
Source: Manuela Andreoni and Sapna Maheshwari, "Is Brazilian Leather Out of Fashion? H&M Stops Buying Over Amazon Fires," The New York Times, September 5, 2019. Photo by U.S. Fish and Wildlife Service Southeast Region.