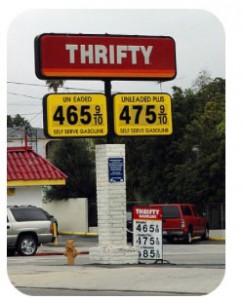 Since Hurricane Harvey made landfall in Texas a couple of weeks ago, the region has been hit with devastating floods that have upended the lives of millions. And although the waters are finally starting to recede in cities like Houston, that just means the serious cleanup work is about to begin. The financial forecasting firm Moody's Analytics now estimates that Harvey inflicted as much as $108 billion in damage to the region. Thankfully, dedicated volunteers have been working around the clock to help communities recover after this disaster. Many organizations are still looking for donations, too. (Click here for a list of places you can give to.)
Unfortunately, not everyone responded to the storm with the same level of compassion and commitment. During the worst of the flooding, the Texas Attorney General's office received more than 650 complaints from consumers about price-gouging at various stores. One report claimed that a gas station had been selling fuel for $20 a gallon while another business allegedly sold bottles of water for $99 per case. Even Best Buy caught the ire of the Internet after a viral photo showed one location offering cases of water for $42 apiece. "These are things you can't do in Texas," said the state's attorney general Ken Paxton. "There are significant penalties if you price-gouge in a crisis like this."
Anyone found guilty of price-gouging can face a fine reaching up to $20,000 per incident. In fact, that figure can climb ten-times higher if the victims are 65 or older. In order to avoid any potential punishment, Best Buy apologized for the water bottle incident and placed the blame on the employees of that single store. Some gas stations could have a decent defense as well since the flooding shut down several oil refineries in the area. With supplies low, it's possible that fuel providers had justification to double prices from an average of $1.30 per gallon to $3.50 in some areas. Still, one business that can't defend its practices is the Best Western hotel in Robstown, Texas. During the hurricane guests spent up to $320 on a room, nearly three times the normal rate. Best Western's corporate office then told the media that all guests had been reimbursed and that the chain had started to sever its ties with the Robstown location.
Questions:
Why do some business drive up their prices during times of crisis?
Do you think gas stations that charged $3.50 per gallon were justified to do so as local oil supplies began to dwindle?
Sources: Kristine Phillips and Hamza Shaban, "A $99 Case of Bottled Water? Texas Stores Accused of Price-Gouging in Wake of Harvey," The Washington Post, August 30, 2017; Don Lee, "Harvey Is Likely to Be the Second-Most Costly Natural Disaster in U.S. History," Los Angeles Times, September 1, 2017. Photo by Marshall Astor.