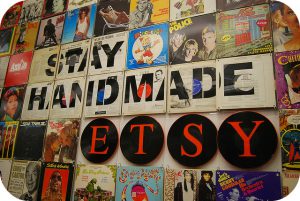 The e-commerce site Etsy is almost entirely powered by millions of independent sellers who offer everything from vintage clothes to freshly made slime. A good number of these entrepreneurs make their living by selling stuff on the site, which explains the anger that many of them felt towards a recent policy change at the company. Instead of collecting a transaction fee of 3.5 percent of sales, Etsy now plans to take a 5 percent cut of both sales and shipping costs.
This 43 percent increase could prove to be too much for small business owners operating on tight margins. For instance, under the old policy an item that cost $40 with $5 in shipping costs would come with a transaction fee of $1.40. Under the new rules, however, the fee increases to $2.25. While that might not seem significant on its own, those additional costs certainly stack up over time. As a result, some Etsy sellers are threatening to quit the site if the policy goes into effect. "I understand what they're doing, but rarely do you walk into your boss' office and they say, 'We're cutting your pay by 1.5%. Tough cookies. And it's happening in 30 days,'" said Jasanna Baumann, an entrepreneur who has sold clothing on the site since 2015. She claims that her company's projected annual sales have fallen to $55,000 from $80,000 at the beginning of the year.
Meanwhile, Etsy's forecasted earnings for 2018 are moving in the opposite direction. The company predicts that the rate hike will increase its annual revenue growth by 10 percent, which sent its stock price soaring last week. Etsy plans to use this additional income for a 40 percent boost in its direct marketing efforts to attract more shoppers. "We believe all of this will help drive near-term growth and increase buyer lifetime value," said Etsy CFO Rachel Glaser. The company also points out that its transaction fees remain lower than competitors like Amazon Handmade or eBay. For some sellers, though, the company's rate hike is the last straw. At the Austin-based clothing store Passport Vintage, for example, the founders plan to leave Etsy for another platform called Depop while also focusing on the growth of their brick-and-mortar shop. "We love Etsy," said co-founder Maria Oliveira. "But they don't listen to their customers. … They're wrong. We're disappointed and think they're on the wrong side of history."
Questions:
Should Etsy reconsider its rate hike after the outcry from sellers? Why or why not?
Who do you think are the most important stakeholders for Etsy: its sellers or investors?
Source: Leticia Miranda, "Some Etsy Sellers Say Their Shops Won't Survive The Company's New Fee Hikes," BuzzFeed News, June 15, 2018. Photo by Charles and Hudson.