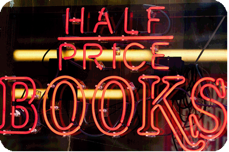 In a world of Amazon and e-readers, there's just not much room for independent bookstores. Over the past five years, mom and pop bookshops have seen revenues decrease by an average of 3.2 percent annually. But not every company in this discouraging industry is feeling the squeeze. In fact, the Dallas-based retailer Half Price Books is growing at a rate of five stores per year. Revenues rose from $50 million in 1995 to $240 million in 2013, remarkably avoiding the downward spiral that has enveloped much of the book market.
That's because Half Price Books stays true to its name by doing everything on the cheap. According to CEO Sharon Anderson Wright, the store will "pay cash for anything printed or recorded except yesterday's newspaper." This take-it-all policy makes the stock at every Half Price Books location different, encouraging customers to browse and dig for hidden treasures. Plus, the average Half Price Books contains more than just the written word: the store also buys and sells comic books, vinyl records and iPads. By relying centrally on used, inexpensive stock, Half Price Books can afford to pass the savings on to the customer.
The company saves money in a number of other novel ways. For instance, the flagship store in Dallas has a wood shop attached to it where all the retailer's bookshelves and fixtures get built. Since Half Price Books always moves into previously owned buildings, it is impossible to standardize a layout for every store. Instead, the company determines the individual needs of each location and constructs the necessary fixtures from scratch. By sticking to these sensible strategies, Half Price Books has expanded to 120 stores in 16 states with more on the way. Although the company had to close three stores during the recession, it remains profitable and debt-free thanks to its low prices and loyal customers.
Questions:
How do small firms like Half Price Books survive against larger competitors?
What unique retail strategy does Half Price employ in its business?
Source: Dinah Eng, "Thriving in an Amazon World," Fortune, September 18, 2014. Photo by: Thomas Hawk.