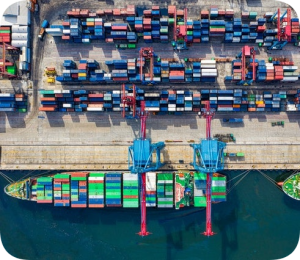 Earlier this week, we looked at how pandemic lockdowns led to increased consumer demand as well as supply chain problems that are delaying deliveries around the world. Large-scale disruptions such as the Suez Canal blockage and the traffic jam at the Port of Los Angeles have resulted in wide-ranging financial damage to all sorts of small operators who cannot get their hands on vital merchandise. For instance, one restaurant in Oklahoma must pay $200 for a case of gloves that usually runs for $40 while a clothing wholesaler in Michigan has hundreds of unsold hoodies that arrived after the end of winter. 
According to a recent survey of 800 companies, 44 percent of respondents reported that they had experienced product shortages, delays, and other supply chain problems in March 2021. Along with struggling to obtain items like nitrile gloves, Oklahoma restaurant owner Evan Kelamis is also stockpiling pork and chicken in anticipation of further shortages. "Seventy percent of bacon consumption is in a restaurant setting," said Kelamis. "It's one of the concerns we are preparing for." This represents a stark change from the start of the pandemic when restaurants and food suppliers had plenty of products in stock but no customers to buy them.
Now, in-demand items across all industries are increasing in price as congested global shipping lanes leave businesses nervous about their abilities to resupply. "If a steel supplier has even a little supply, they are raising prices knowing it will be difficult for them to replenish their stock," said Matt Erfman, CEO of a South Dakota metal manufacturer with about 150 employees. "It's almost a straight-upward trajectory." Meanwhile, companies that are experiencing shipping delays are trying to speed up delivery by using UPS Air Freight, which is faster and more dependable but can cost ten times more than shipping by boat. 
Questions:
What are some of the effects that large-scale supply chain disruptions have had on small businesses?
Why are some businesses switching to air freight rather than shipping by boat? What are the advantages and disadvantages to making this change?  
Source: Ruth Simon and Dave Sebastian, "Snarled Supply Chain Trips Up Small Businesses," The Wall Street Journal, April 21, 2021.