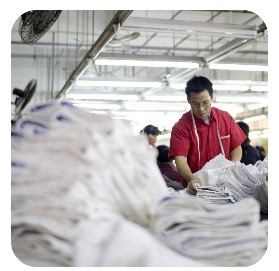 In April 2013, more than one thousand Bangladeshi garment workers died when the Rana Plaza building collapsed. Considered to be the deadliest garment factory accident in history, the tragic event led to worldwide condemnation of many Western clothing companies. After all, brands like H&M, Walmart and Zara had long pushed producers in Bangladesh's growing garment industry to make clothes faster and cheaper. While this allowed retailers to set low prices at their stores, the focus on efficiency forced Bangladesh's factories to neglect many safety issues.
Following the Rana Plaza disaster, however, safety became the focal point of the industry. A group of clothing brands formed the Accord on Fire and Building Safety in Bangladesh, an inspection program that covers more than 1,600 factories. Meanwhile, the Bangladeshi government developed their own watchdog group along with the help of the United Nations' International Labor Organization. But despite the good intentions behind these programs, they haven't done enough to solve the safety problems that plague Bangladesh's garment factories. For instance, 80 percent of the facilities overseen by the Accord on Fire and Building Safety have fallen behind on improvements. What's more, the government has closed down just 39 factories that pose an "immediate" threat to workers.
Observers say that factory owners are caught in a bind when it comes to improving safety. First of all, profit margins are thin in the garment industry, meaning that few companies have the cash on hand to make necessary improvements. At the same time, Bangladesh's industrial sector remains under intense pressure from Western companies to produce more items at cheaper costs. "You can't on the one hand have lower prices and on the other hand have rising standards," said Sarah Labowitz, co-director of New York University's Stern Center for Business and Human Rights. On top of all that, Bangladeshi factory owners are wary of competition from neighboring countries like Vietnam and Laos. They fear that a slip in production or a request for help would make their foreign clients turn to another nation for less costly facilities. Still, others remain confident that Bangladesh's garment industry will make the improvements they need to over the next few years. Keeping those standards in place, however, may provide an even greater challenge in the long term.
Questions:
Should Western brands directly provide funds to Bangladeshi factories for safety improvements?
How can focusing on efficiency distract factory owners from potential safety problems?
Source: Vauhini Vara, "Clothing Keeps Getting Cheaper, and Factory Workers Are Paying the Price," Bloomberg Businessweek, October 27, 2016. Photo by Mark Oh.