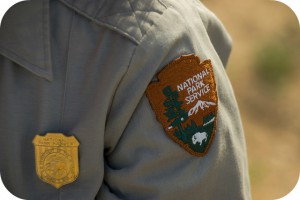 For more than a century millions of visitors have marveled at the staggering beauty contained in America's national parks. According to the writer Wallace Stegner, "National parks are the best idea we ever had. Absolutely American, absolutely democratic, they reflect us at our best rather than our worst." Still, even these sublime sanctuaries face the same kind of bureaucratic headaches that afflict other government agencies. In fact, years of flat funding have left the National Park Service with an $11 billion backlog of maintenance improvements.
The money that parks receive from the federal government often only covers day-to-day expenses, leaving little else for renovations or additions. While seeking out donations has long been a duty for Park Service officials, their need for outside cash has never been this desperate. This year the agency is hoping to bring in $350 million as part of its centennial celebration. In order to encourage larger gifts, the Park Service recently relaxed rules concerning on-site recognition for donors. For years even the most generous philanthropists received little more than a plaque on a trail as commemoration. Officials didn't want to cheapen the majesty of the parks by littering them with the names of individuals and organizations.
The agency's need for cash slightly changed these sensibilities, however. The Park Service is especially keen to convince brands to donate big in exchange for prominent recognition. While companies aren't allowed to advertise within national parks, they're now permitted to display their logos and purchase naming rights for things like visitor centers or youth programs. Critics fear that these small concessions could set a precedent that leaves America's most treasured natural wonders vulnerable to corporate sponsorship. After all, who wants to set their watch to the breathtaking eruption of Pepsi Presents Old Faithful? Along with these semantic concerns, environmental advocates are also afraid that corporations will seek to influence park policy or demand further privileges. Despite the validity of these concerns, though, the sad fact remains that our national parks are in dire need of cash. As one park fundraiser succinctly put it: "Our needs are astronomic."
Questions:
Should companies be allowed to advertise within national parks?
What are the advantages and disadvantages of fundraising for government organizations like the National Park Service?
Source: Lisa Rein, "Yosemite, Sponsored By Starbucks? National Parks To Start Selling Some Naming Rights," The Washington Post, May 9, 2016. Photo by Joshua Tree National Park.