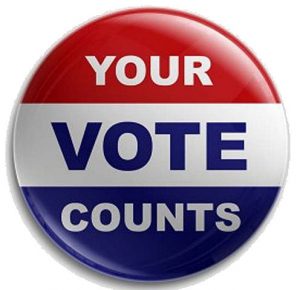 Today millions of Americans will head out to vote in the midterm elections, and hopefully you'll be one of them. Of course, not everyone can easily find time during the day to perform this important civic duty. According to a Pew Research Center survey from 2014, 35 percent of respondents said they were registered to vote but couldn't make it to the polls due to "work or school conflicts." In that particular election year, only 37 percent of eligible voters exercised their right to do so.
In an effort to increase turnout, the Society for Human Resources Management reports that 44 percent of American companies will offer employees paid time off today to vote. This includes the restaurant chain Cava, which will grant its 1,800 workers two hours paid leave at the beginning or end of their shifts. "When I was a waiter for 10 to 12 years, I never had time to get out there and vote," said Cava co-founder Ted Xenohristos. "We took this step so they could be more active members in our community. We just want to give them the opportunity to vote."
Meanwhile, the apparel company Patagonia is going the extra mile by closing all of its stores and giving employees a paid day off. Famous for its commitment to social causes, the outdoor clothing maker did the same thing in November 2016. "On Election Day, it's more important to vote than shop," said Patagonia's senior director of public relations Corley Kenna. Even if you don't work for a company as generous as this, however, there's a chance you can still get time off to vote. In fact, most states have laws in place that require employers to give workers at least an hour off on Election Day. Click here to see if you live in an eligible state, but be warned: many of these laws stipulate that employees must provide advance notice before they can take time off to vote.
Questions:
Do you think more companies should follow Cava and Patagonia's lead and grant employees time off to vote? Why or why not?
Are you registered to vote? If not, why haven't you registered?
Sources: Ben Tobin, "More Employers Are Offering Paid Time Off to Vote This Election Day," USA Today, November 5, 2018; Jordyn Holman and Sahil Kapur, "CEOs Give Employees Paid Time Off to Vote in Midterms," Bloomberg, October 22, 2018. Photo by New Orleans Branch NAACP.