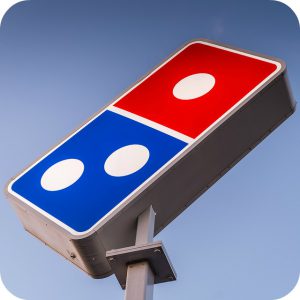 A few months ago, Domino's began running a TV ad campaign centered on a pretty unusual premise. The commercials showed workmen filling potholes with asphalt which were then spray-painted with the Domino's logo. "We don't want to lose any great-tasting pizza to a pothole, ruining a wonderful meal," read a press release about the campaign. Called "Paving for Pizza," Domino's encouraged Americans to contact the company if they wanted some roads repaired in their town free of charge.
"Within the first couple of weeks, we had submissions from every state," said Dan Corken of CP+B, the ad agency that came up with the campaign. Initially Domino's had provided the team with a budget of $100,000, enough cash to fix potholes in about 20 towns. Once the company received more than 137,000 requests, however, they knew the program had to be expanded. "I don't think any of us expected it to blow up quite as big as it did," said CP+B's creative director Kelly McCormick. To accommodate the increased demand, Domino's recently announced Paving for Pizza will expand nationwide with the goal of improving roads in at least one town in every state.
Local officials that agreed to participate in the program have largely praised the pizza chain's efforts. "The Domino's campaign helps us showcase the importance of road safety, how we value partnerships, and how the city proactively and creatively provides quality services," said Mayor Michael Brown of Grand Forks, North Dakota. Nevertheless, some experts warn that entrusting private companies to solve public infrastructure problems hasn't exactly worked out in the past. "There's a reason why municipalities started to assume ownership and control of roads and sidewalks," said University of Toronto legal studies professor Mariana Valverde. "For a long time, sidewalks would only be built if the resident whose property abutted the road decided to go in on it. That turned out to be a disaster — maybe some people got nice sidewalks; you'd have a nice sidewalk for one block then the next block might not have any."
Questions:
How does the Paving for Pizza campaign benefit Domino's?
Do you think more companies should follow Domino's lead and begin to fund public infrastructure projects? Why or why not?
Source: David Griner, "As Domino's Expands Its Pothole Paving to All 50 States, Here's How to Bring It to Your Town," AdWeek, August 29, 2018; Tim Forster, "What America's Mayors Think of Domino's Pothole-Paving Publicity Stunt," Eater, September 7, 2018. Photo by Mr. Blue MauMau.