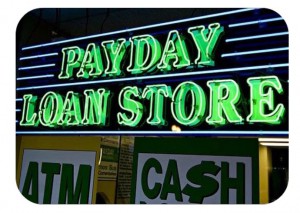 Each year some 12 million Americans take out a payday loan in order to get cash fast. But just because these borrowers can receive a quick injection of capital doesn't mean they can pay it back with comparable speed. Many people who take out a payday loan end up drowning in a flood of loan fees and high interest rates. Last year alone the industry collected more than $7 billion in fees from customers. Borrowers can become so overwhelmed by these additional charges that approximately 80 percent fail to pay off their initial debt. This requires them to take out as many as four consecutive loans just to break even.
The culture of constant debt created by payday lenders has been a target of the Consumer Financial Protection Bureau (CFPB) for years now. And last week the government watchdog finalized a set of regulations regarding how the industry will work in the future. According to the new rules, lending firms must verify whether or not a potential customer can afford to pay back a loan. Borrowers will also be prevented from taking out more than three loans in quick succession. "The CFPB's new rule puts a stop to the payday debt traps that have plagued communities across the country," said CFPB Director Richard Cordray. "Too often, borrowers who need quick cash end up trapped in loans they can't afford. The rule's common sense ability-to-repay protections prevent lenders from succeeding by setting up borrowers to fail."
Of course, the companies who make up the payday loan industry don't see it this way. According to representatives from the sector's largest advocacy groups, these new rules will "cripple" the industry by shuttering hundreds of storefronts and "threatening 60,000 jobs." In fact, even the CFPB estimates that the regulations will "restrict" future revenues by as much as two-thirds. These potential losses might cause payday loan companies to mount a legal challenge against the rules before they go into effect in 2019. Despite pressure from the industry, though, opponents of payday lenders are confident they can shut down these "debt traps" for good. "Payday lenders have exploited loophole after loophole to trap working people in debt, and this rule will help put an end to their abusive practices," said Senator Sherrod Brown.
Questions:
Do you think the CFPB's new rules will limit some of the payday loan industry's most harmful practices?
Should payday loan companies file a lawsuit to stop the CFPB's new rules from going into effect?
Source: Renae Merle, "How Regulators Plan to Curb 400 Percent Interest Loans," The Washington Post, October 5, 2017. Photo by Aliman Senai.