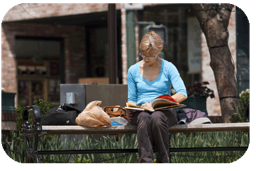 When people think about the average American college student, their minds often wander to images of fresh-faced teenagers hitting campus right out of high school on their parents' dime. But in reality, only one-third of the nation's more than 20 million students enrolled in two- and four-year universities fit that description.
Though it may not surprise seasoned professors, the idea of the "traditional" college student is becoming increasingly outdated. According to recent data collected by the U.S. Department of Education, about 40 percent of college students are older than 25. More than one-third attend classes part-time, and almost 20 percent work full-time. Although most students attend four-year public and private universities, approximately 40 percent are enrolled in community colleges or for-profit institutions. Enrollment of international students has also shot up by 35 percent between 2000 and 2012. As high schools have provided fewer students over the years, universities have ramped up overseas recruiting considerably.
Despite the increase in their numbers, however, non-traditional students are likely to face more challenges in their college tenure than typical teens and twenty-somethings. That's because school services are often designed to cater to young people with lots of free time rather than working folks. Some colleges have revamped old systems or added resources to accommodate these new students. For instance, a big increase in veteran enrollment at George Washington University found the school unable to meet the needs of many of its ex-military undergrads. Once some of these disillusioned students began to drop out, GWU expanded its veterans' affairs office and hired a former Navy vice admiral to look after the school's more than 1,000 student veterans. Many students now receive a personalized education experience that takes their life experience into account.
Questions:
Why has there been such a change in the college student population?
Why many students attending community colleges and for-profit institutions?
Source: Jenna Johnson, "Today's Typical College Students Juggle Work, Children and Bills with Coursework," The Washington Post, September 14, 2013. Photo by Jeffrey Pott.