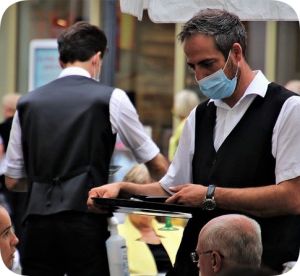 Since the widespread restaurant shutdowns of 2020, workers have steadily started to leave the food service industry, many for good. Along with the dangers of working in public during a pandemic, employees also found that some customers at reopened restaurants tended to tip less while others responded aggressively to mask rules. As a result, eateries across the country have nearly one million fewer filled positions than they did before the pandemic, amounting to an 8 percent decrease. And in a recent poll of restaurants, 75 percent of operators reported that recruiting and retaining employees was their top challenge.
Many food service workers are unwilling to return to the same wage structure as before the pandemic, in which servers primarily earned tips on top of a $2.13 an hour minimum wage. While this means that servers could potentially earn big on good nights, such windfalls can be unpredictable and have become increasingly rare post-Covid. In response to these shifting circumstances, some restaurants are altering their wage structures to attract employees. At Lula Cafe in Chicago, for instance, employees are offered hourly wages of $18 to $24 as well as their share of a 20 percent surcharge on all checks that is pooled among staff. 
"For me, it would have been difficult to stop the business I had been running for 22 years, because everything was moving so fast," said Lula Cafe owner Jason Hammel. "The pandemic gave me an opportunity to start with a blank slate and say, let's rebuild the model and the way we've always done things." Ruby's West End Cafe in Portland, Maine, is trying a similar tactic with $12.15 per hour base pay and a pooled 20 percent surcharge on all checks. One manager said that on a good day she can earn as much as $27 an hour, which is on par with what she made at the upscale restaurant she left to join Ruby's. Meanwhile, Hammel said the new compensation structure at Lula's has made hiring easy, although he admits that the 20 percent surcharge is subject to taxes that were not an issue with the tip system. 
Questions:
Why are many restaurants struggling to recruit and retain employees?
What are the potential advantages and disadvantages of implementing restaurant compensation structures similar to the ones made by Lula Cafe and Ruby's? 
Source: Jane Black, "How to Make an Unloved Job More Attractive? Restaurants Tinker With Wages," The New York Times, September 20, 2021.