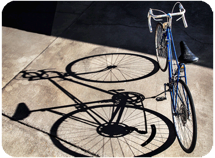 With Detroit officially out of bankruptcy, business leaders and entrepreneurs are looking to the city's mighty manufacturing past as an example for its future. After all, Detroit is full of old factories that can be fixed up and rented out cheaply. But it's not just carmakers who are flocking back to the Motor City: over the last several years at least seven bicycle manufacturers have set up shop in the area as well.
Some of these bike builders rent small spaces in order to produce high-end specialty models. For instance, Detroit Bicycle Company handcrafts single-speed and fixed gear bikes that run for $4,000 and $6,000 respectively. Other companies, like the city's biggest cycling company Detroit Bikes, operate in the classic large-scale assembly line manner. The company recently invested $2.5 million in a new factory that will eventually produce as many as 50,000 bikes a year. In fact, if Detroit Bikes reaches its production goals, its output alone would double the number of bicycles manufactured in the U.S. today.
The founders of many of these new bike makers have experience as engineers at the big car companies, giving them the experience necessary to produce quality goods. Along with a wealth of talent, Detroit also offers a major consumer market for bicycles. The city has added 150 miles of new bike lanes since 2006 as the number of commuters who cycle to work surged by 43 percent. Still, Detroit's bike makers are looking to expand their operations outside the city in order to capitalize on demand for American-made products. Detroit Bikes is seeking $1 million in investment to increase its production ten-fold while the Detroit Bicycle Company is looking for $100,000 to hire more employees. If they get the capital they need, the Motor City's resurgent industrial sector may be driven on two-wheels.
Questions:
Will Detroit's automobile industry comeback to its former production level?
Is the bicycle industry a good fit for the city of Detroit?
Source: Jen Wieczner, "Motor-less City? Bankrupt Detroit's Booming Bike Industry," Fortune, October 9, 2014. Photo by: Robert Couse-Baker.