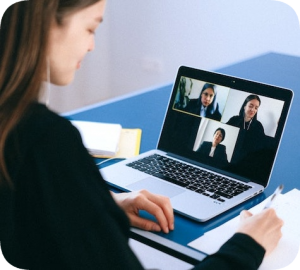 Working from home became commonplace during the pandemic as companies increasingly kept in contact with employees through platforms like Slack, Zoom, and Microsoft Teams. As offices opened back up, though, managers started requiring workers to come in at least a few times per week. According to a recent study from the Labor Department, 72.5 percent of American businesses reported that their employees rarely or never work remotely, close to the level of 76.7 percent that preceded the pandemic. 
The Labor Department's statistics are not universally accepted, however, with separate studies conducted by Stanford University and the Census Bureau showing that telecommuting is up by four- or fivefold. Stanford, for instance, conducts monthly household surveys that found remote work "accounts for over a quarter of paid full-time workdays in the United States." Others claim that the Labor Department is overcounting the number of full-time office workers by including confusing questions that skew results. "I see this survey as an outlier and not the most reliable measure," said economist Adam Ozimek on the Labor Department's survey. "We need to think hard as we try to develop better measures of working from home."
Another study from the Partnership for New York City found that only 9 percent of Manhattan employees went into the office five days a week. Additionally, the payment platform Square claims that sales at restaurants and bars in the residential borough of Brooklyn have outpaced those in the commercial hub of Manhattan. "It's clear that the work-from-home trends induced by the pandemic have transformed the food and drink scene in the city," said Square economist Ara Kharazian. The stakes of telecommuting are high for companies who have invested heavily in office real estate that does not hold the same appeal in a post-pandemic world. By the end of 2022, nearly one billion square feet of American office space was available on the market but in search of a tenant, a sign that businesses could be unwilling to risk moving into expensive working environments. 
Questions:
Do you think telecommuting has become more commonplace after the pandemic? Why or why not?
How can increased telecommuting potentially affect service businesses like restaurants and bars? 
Source: Emma Goldberg, "Do We Know How Many People Are Working From Home?" The New York Times, April 2, 2023.