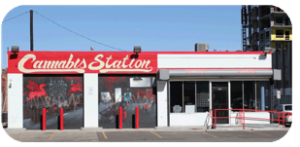 Most state laws designate marijuana as a Schedule I narcotic that is illegal to possess, sell or consume, barring medical reasons in some states. But last year voters in Colorado and Washington elected to legalize the drug following years of lax medical cannabis legislation. While Washington lawmakers are spending a year drafting regulations for retail sale, Colorado's legal dispensaries opened to customers aged 21 and over on January 1, 2014. Nevertheless, the Rocky Mountain State's marijuana growers have a lot of hoops to jump through if they want to operate on the open market.
For instance, authorities keep a close watch on growers' crops in order to ensure that nothing goes missing. This requires attaching a radio frequency identification signal (RFID) to each plant, allowing law enforcement to track the crops from germination to harvest. The tags cost 45 cents apiece, and growers complain that the expenses add up. However, most growers become frustrated by the fact that they must record each plant twice, once in their own accounting ledgers and another time in the Marijuana Inventory Tracking System (MITS). This creates a wide margin for error in an industry where operators cannot afford to make mistakes. After all, not only would a grower likely lose its license if a plant goes missing, it could also face criminal charges.
Growers must cut through red tape even when their crops die. Each dead plant has to be deleted from the registry via a time-consuming ticketing procedure that can halt productivity. Nevertheless, most growers recognize the need for such stringent regulations. "RFID tagging is absolutely necessary to legitimize the industry," said one dispensary owner. The legal marijuana trade may be a frustrating and potentially dangerous endeavor for entrepreneurs, but it is also undeniably lucrative. Colorado reported that revenues from taxes and fees from marijuana sales had totaled more than $3.5 million in January alone. The governor projects that marijuana taxes could yield as much as $135 million annually. With so much money at stake, growers must abide by the book dutifully, if not a bit grudgingly.
Questions:
Is the government going overboard on regulations related to marijuana sales?
Do you think marijuana sales will be approved nationwide?
Source: Karen Weise, "Colorado's Legal Pot Growers Grumble About RFID Tagging," Bloomberg BusinessWeek, March 13, 2014. Photo by Jeffrey Beall.