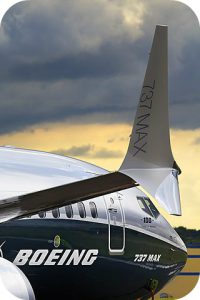 On Tuesday we looked at how countries around the world responded to the tragic crash of Ethiopian Airlines Flight 302. Initial investigations showed similarities between this disaster and the crash of a Lion Air flight five months ago, which also involved a Boeing 737 Max 8 model jetliner. As a result, China and Indonesia almost immediately pulled the aircraft from use while countries like the U.K., India, and Egypt quickly followed suit. But not every country joined the international effort to ban the aircraft, with the U.S. being most notable exception.
That all changed yesterday when the Federal Aviation Administration (FAA) announced that it would ground all Max 8's until further notice. Government officials said that the similarities between the Ethiopia and Indonesia crashes "warrant further investigation of the possibility of a shared cause for the two incidents that needs to be better understood and addressed." Shortly after the FAA's announcement, Boeing also released a statement saying that it would ground its fleet of more than 370 Max airplanes. "We are doing everything we can to understand the cause of the accidents in partnership with the investigators, deploy safety enhancements and help ensure this does not happen again," the company said.
The U.S. government and Boeing have both faced criticism for taking such a long time to ground the Max 8. In fact, many American pilots had registered complaints about the aircraft in the months before the Ethiopia crash. Along with criticizing the Max 8's controls and training procedures, pilots also recorded at least two incidents where the plane involuntarily pitched downward. An ongoing investigation led by the Ethiopian government will determine if these factors played any role in the crash of Flight 302.
Questions:
Do you think the FAA took too long to ground the Boeing 737 Max 8? Why or why not?
Do you think the investigation into Flight 302 will have a significant impact on the public's perception of air travel?
Source: Luz Lazo, Michael Laris, Lori Aratani and Damian Paletta, "FAA's Emergency Order Grounding Boeing Jets Came After the Agency Identified Similarities Between Crashes in Ethiopia, Indonesia," The Washington Post, March 13, 2019. Photo by Oleg V. Belyakov.