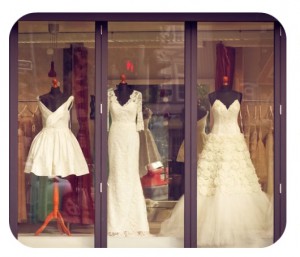 From now until the end of October, wedding season will be in full swing in the U.S. All over the country thousands of engaged couples are either ready to tie the knot or caught deep in the throes of the planning process. Of course, anyone who has taken part in a wedding knows just how agonizing they can be to organize. Whether it's last minute cancellations from guests or caterers who can't find the venue, weddings have a unique way of throwing surprises at couples who are already stretched to the limit.
So imagine the shock that many brides-to-be felt a few weeks ago when they found out the wedding dressmaker Alfred Angelo Bridal suddenly went out of business. Before its speedy shuttering the Florida-based company had operated 60 of its own branded stores while selling dresses to more than 1,400 wholesale outlets across the nation. Then out of the blue Alfred Angelo filed for bankruptcy and agreed with authorities to liquidate its inventory. Executives waited until the end of Thursday, July 13 to let staff know that they wouldn't have jobs on Friday. Meanwhile managers were ordered to drop off their keys after locking up for the last time.
Alfred Angelo's clients didn't receive advanced word about the bankruptcy, either. Most read the news on social media while a few especially unlucky people found out when they tried to pick up their dress at a closed store. After calling the company to no avail, these frantic fiancés reached out to Patricia Ann Redmond, the lawyer in charge of liquidating Alfred Angelo's assets. "It's been about 7,300 emails since yesterday," said Redmond on July 14. "I've been prioritizing them by the dates of their weddings." She's working with a court-appointed trustee to make sure those who have dresses waiting to be picked up can get to them quickly. Redmond is also hoping to arrange a short term loan so she can pay for a $1.2 million shipment of dresses purchased by Alfred Angelo from China. Despite her best efforts, though, it's likely that a number of brides will have to find an alternative to what they believed to be their dream dress.
Questions:
Should Alfred Angelo have been more transparent with its employees and clients when filing for bankruptcy?
Do you think Alfred Angelo's management could be sued by angry clients who didn't receive the dresses they ordered?
Sources: Patrick Fitzgerald and Peg Brickley, "Bridal Retailer Alfred Angelo, Planning to File for Bankruptcy, Closes Stores," The Wall Street Journal, July 13, 2017; Douglas Hanks, "Who Can Brides Call for Help After Alfred Angelo Shut Down? This Miami Lawyer," Miami Herald, July 14, 2017.