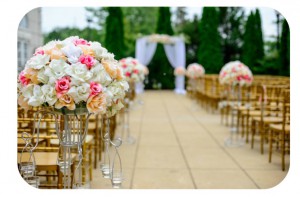 As the sudden closing of Alfred Angelo Bridal shows, dealing with weddings can be unpredictable and continuously frustrating even on the business side. But the financial rewards are vast for those who manage to navigate this volatile sector successfully. The wedding industry earned $58 billion in revenue in 2016 and is expected to bring in $63 billion by 2021. The average wedding now costs $26,500 as couples spend generously over the year or so that they spend planning the big day.
Despite this bonanza of cash, though, there are few large companies that command the industry. Instead, thousands of small vendors located across the country thrive on word-of-mouth recommendations. While wedding planners drive a lot of business to these independent operators, not every couple can afford the average fee of $3,000 to hire a planner. Turning to online options usually doesn't work out either since many vendors run low-tech operations. As a result, figuring out details like where to book a venue or buy flowers can be difficult and expensive without assistance.
That's where wedding sites like Lover.ly come in. This platform helps couples prepare budgets and recommends vendors, which are the two main tasks of wedding planners. Unlike some services that simply list hundreds of possible professionals, Lover.ly's virtual planners develop personalized suggestions based on the couple's criteria. The service can cost anywhere from $10 to $399 depending on how many recommendations a couple needs. Although the startup has assembled a database of more than 65,000 vendors, many independent operators remain disconnected from the Internet and thus out of the company's reach. Lover.ly also faces fierce competition from established online enterprises like The Knot as well as similar startups like LadyMarry and WedBrilliant. If the company succeeds, however, it could forever change this multi-billion industry.
Questions:
Why do you think the wedding industry is comprised mostly of small vendors rather than big companies who dominate the sector?
What are the advantages and disadvantages of using a service like Lover.ly to plan a wedding?
Source: Danielle Beurteaux, "Start-Ups Hope Couples Say 'I Do' to Online Wedding Planning," The New York Times, January 4, 2017.