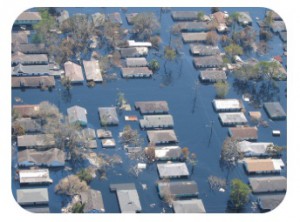 From tsunamis to earthquakes to hurricanes, each year natural disasters strike all across the world and leave devastation in their wake. In the immediate aftermath of these catastrophes, ensuring people's safety is the number one priority. As a community starts to recover from a disaster, however, their thoughts turn towards rebuilding and returning to normalcy. Still, this isn't such an easy task to accomplish. Natural disasters can destroy infrastructure and buildings that take millions of dollars and months of time to rebuild.  
Of course, a community's institutions aren't the only things affected by environmental catastrophes. Regular people also go through an enormous amount of hardship during times of weather-related destruction. Often they'll spend so much of their income trying to recover that they don't have money for anything else, leading to a significant drop in their quality of life. In fact, a new report from the World Bank estimates that global disasters lead to $520 billion in consumption losses annually. This is 60 percent more than previous estimates that only took damage against assets into account.
As a result of this colossal figure, the World Bank says that recovering communities may want to focus more on preventive measures that help protect poor individuals. "The design of disaster risk management should, then, not rely only on asset losses," the World Bank said in its report. "Targeting poorer people with disaster risk reduction interventions — such as dikes and drainage systems — would generate lower gains in avoided asset losses but larger gains in well-being."
Questions:
Why do natural disasters lead to large drops in product consumption?
After a natural disaster, should communities focus their recovery efforts on individuals, assets, or a combination of the wo?
Source: David Roman and Melissa Cheok, "Natural Disasters Cost $520 Billion a Year, World Bank Says," Bloomberg, March 1, 2017. Photo by NOAA Photo Library.