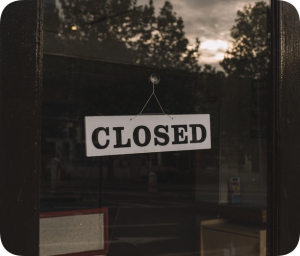 According to data collected and analyzed by Yelp, nearly 163,700 businesses have closed since the start of the pandemic in March. This marks an increase of 23 percent from July when Yelp last released statistics about closures. To make matters worse, about 98,000 of those businesses will remain closed permanently. 
More than 32,000 of those shuttered businesses are restaurants, 61 percent of which have closed for good. Yelp claims that restaurants like pizzerias, delis, food trucks, and bakeries have performed much better during the pandemic than breakfast spots and dessert-focused eateries. Still, the coronavirus has delivered a fatal blow to tens of thousands of restaurants, with the National Restaurant Association saying that the industry is on track to lose $240 billion in sales this year. 
Restaurants often operate on slim margins and cannot survive on takeout alone. However, many consumers remain wary about dining in at restaurants, and rightfully so: a recent study from the CDC found that adults who tested positive for Covid-19 were twice as likely to report that they dined in at a restaurant in the past two weeks. Meanwhile, retailers are also struggling with about 17,500 closing permanently. Established stores in major cities like New York, Los Angeles, and Chicago have been hit especially hard as tourism has basically flatlined.
Questions:
Why do you think some types of restaurants like pizzerias have been able to stay afloat during the pandemic while others have struggled and closed? 
Do you think the federal government should provide more relief to struggling small businesses? Why or why not?
Source: Danielle Wiener-Bronner, "More Than Half of Businesses That Closed During the Pandemic Won't Reopen," CNN, September 16, 2020.