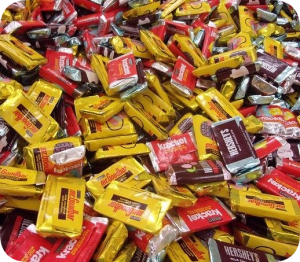 While makers of staple foods like soups and cereals have seen sales skyrocket during the pandemic, candy companies like Hershey have not been so fortunate. With foot traffic down significantly in convenience stores and other shops, consumers are not making as many impulsive treat purchases as they did last year. Still, matters could get even worse for Hershey in the coming months if the company does not have a happy Halloween.
The nearly $800 million haul that the company brings in each October is now under threat from the coronavirus pandemic. In order to preserve these sales, Hershey has teamed up with health experts and retailers to provide customers with tips for safe Halloween celebrations. The company wants to ease consumers' fears early on so that they can be prepared when the big day arrives. "We're taking a proactive approach," said Hershey's global chief sales officer Phil Stanley. "We're really focused on helping consumers find creative ways to celebrate with treats, even though trick-or-treating is going to look different this year."
Following the social-distancing guidelines of the Centers for Disease Control and Prevention, Hershey developed a map that shows the safest neighborhoods to go trick-or-treating. The company also advises that people in high-risk areas create at-home candy hunts in order to minimize outside contact. Of course, only time will tell if suggestions like these will get consumers into the Halloween spirit. Many major holiday gatherings and events have already been canceled, leading at least one candy company to shut down production altogether. Just Born Quality Confections, the makers of Peeps, announced this week that it would not make the marshmallow treats for Halloween or Christmas. 
Questions:
Why has Hershey seen sales fall during the pandemic? 
Do you think Hershey will be able to keep Halloween sales steady by offering socially distant trick-or-treating tips? Why or why not?
Sources: Annie Gasparro, "Hershey Maps Trick-or-Treating Risks in Hopes Coronavirus Won't Scare Off Halloween Sales," The Wall Street Journal, September 14, 2020; Alaa Elassar, "More Pandemic Fallout: No Peeps for Halloween and Christmas," CNN, September 13, 2020.