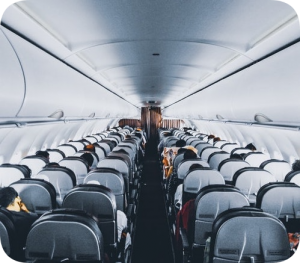 At the beginning of summer, major airlines had plenty of optimism that rising vaccination rates would entice Americans into traveling again. Initially this hope seemed to be well-placed as demand for flights increased and prices surged accordingly, with the Consumer Price Index finding that airfares rose by 7 percent from April to May 2021. While prices stayed around that level through July, sales started to sag by August as carriers saw the impact of the Delta variant on their bottom lines.
For instance, Southwest Airlines recently announced that it would not likely hit its third-quarter profitability targets due to an increase in cancelled flights. Although many travelers are continuing to take vacations and leisure trips, airlines are still missing the business travelers that once made up a big chunk of their sales. As a result, United said that it would likely operate 26 percent fewer flights than compared to this time in 2019. Analysts are also predicting that airfares will drop as demand falls due to coronavirus concerns.
"I expect regions that historically depend on a lot of business travel and a lot of international leisure travel, like New York City, will still be very soft demand- and price-wise in late 2021 through 2022," said Christopher Andersen, management professor at Cornell University. At the same time, Airbnb and other short-term rental companies have seen prices rise by nearly 50 percent in tourist-heavy destinations. In major cities where business travelers would usually be, however, short-term rentals can be found for 35 percent less than before the pandemic.  "It looks like the rise of the Delta variant will delay the recovery in urban locations, but we don't expect much impact in the rest of the country," said analyst Jamie Lane. 
Questions:
How has the spread of the Delta variant changed expectations in the airline industry?
Why are short-term rental properties currently more expensive in tourist destinations than in major cities?
Source: Elaine Glusac, "Why Your Next Trip Might Be More Expensive Than Your Last," The New York Times, August 21, 2021.