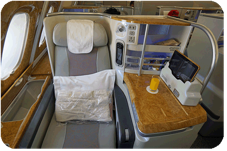 Although business-class seats only take up a few rows on an airplane, the money they bring in accounts for 30 percent of global airline revenues. As a result, many upscale air carriers have upgraded their premium cabins with increasingly posh amenities. Emirates' double decker Airbus, for instance, has a bar onboard where first-class passengers can meet and mingle. And on Singapore Airlines premium customers have a menu of more than 60 gourmet dinners available to choose from.
But while the executives who frequent business-class certainly appreciate these perks, there's one simple thing that most of them would rather have while up in the air: a good night's sleep. "I don't care if they serve dog food or chateaubriand for dinner," said David Killingback, a banker who regularly flies an eight-hour route between Melbourne and Singapore. "I want to be able to get to sleep as quickly as possible without disturbance and wake at the last possible minute." Fortunately for Killingback, Qantas Airways is making his dream a reality. After 18 months of development, the airline is beginning to install first-class seats that allow passengers to recline fully and start napping.
Unlike in economy class, premium customers can move their seats back by as much as 7 inches as soon as they board. That's because the seats in Qantas' new business class come equipped with over-the-shoulder belts that would look more natural in a car than on an airplane. With this added protection, passengers can stay safe in their reclined seats both on takeoff and landing. And once the plane is in level flight, the seats can be laid flat to provide the passenger with an ideal sleeping experience. If they don't feel like napping, first-class flyers can watch a movie on their personal 16-inch screen or enjoy a meal created by prominent Australian chef Neil Perry. Head to the back of a Qantas plane, however, and you'll find a decidedly less comfy atmosphere. Over the last two years the airline has added four extra rows to its economy cabins while shrinking legroom at each seat by 1 inch. Qantas plans to squeeze in another row soon by reducing the size of bathrooms and the galley.
Questions:
Why are airlines scrambling to meet the needs of business-class fliers?
As demand increases, will airlines pull back on costs such as bag charges?
Source: David Fickling, "Will Bankers Pay Up for More Shut-Eye?" Bloomberg BusinessWeek, October 30, 2014. Photo by: Luke Lai.