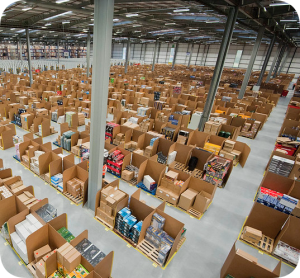 The e-commerce giant Amazon is the second largest private employer in the U.S., with more than 1 million employees working in fulfillment centers and corporate offices around the country. For years, labor activists have sought to unionize this enormous workforce, but past efforts largely failed to gain traction. That may be starting to change, however, if recent developments at New York's largest Amazon warehouse are any indication. 
Last week, staff at the JFK8 facility on Staten Island voted 2,654 to 2,131 in favor of organizing into a union. "Today the people have spoken, and the people wanted a union," said Chris Smalls, an Amazon warehouse employee who led the organization effort. While it could be months before the union brokers its first contract with the company, the results from the Staten Island vote could encourage upcoming union elections at two other Amazon facilities. The e-commerce giant isn't the only company facing efforts to organize, either: in December 2021 baristas at a Starbucks in Buffalo, New York, voted to form the first union in the coffee chain's 50 year history. 
Unionization efforts like these often encounter resistance from management. Amazon, for instance, frequently used meetings inside the company to campaign against unions and warned workers of potential dues they might have to pay. "It's always an uphill battle for unions," said Rebecca Givan, who specializes in labor studies at Rutgers University. "People see enough workers sign a card showing union support and think maybe the next steps are straightforward, but they're not." Amazon could even challenge JFK8's union on the grounds that the National Labor Relations Board (NLRB) interfered too much in the process. Still, that is just one of many things that still remains to be seen in this potential union resurgence. 
Questions:
Why do you think workers at Amazon's Staten Island facility voted to unionize?
What are the potential benefits and drawbacks of joining a union? 
Source: Sebastian Herrera and Allison Prang, "Amazon Workers in New York Vote to Form Tech Giant's First U.S. Union," The Wall Street Journal, April 1, 2022. Photo by Scottish Government.