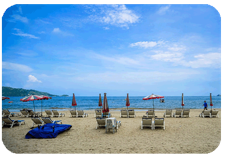 What do the United States of America, the Federated States of Micronesia and the Kingdom of Tonga all have in common? Aside from being decidedly long-named nations, none of these three countries requires employers to provide their staff with time off for holidays or vacation. In fact, the U.S. is the only advanced economy in the entire world without such a requirement. As a result, American workers have seen their vacation time shrink from an annual average of 20.3 days in 1976 to just 16 days last year.
And that's for employees who are lucky enough to have access to vacation benefits to begin with. For millions of others working in service jobs like restaurants and retail, the opportunity for paid leave may never present itself. That is unless you work for a foreign-owned company like H&M. The Sweden-based "fast fashion" retailer is expanding all over the U.S. and looking for qualified employees to sign on. One of the central draws of this recruitment campaign is H&M's vacation policy, with flyers for the company proudly announcing, "Five weeks vacation is possible." This sentence piqued the interest of 23-year-old Chris Arce, a veteran of many retail jobs who never saw the industry as a springboard for his career. After a year at H&M, however, Arce got promoted to department manager where he now has access to four weeks of paid vacation and seven paid holidays off.
For H&M executives, it just makes good sense to keep their employees happy. "The productivity is what counts," said H&M's North American president Daniel Kulle. "If you feel like you are happy and rested, you'll do better work." While this idea is a given at many European companies, over the decades American firms have drifted further and further away from it. Taking a vacation can even be taboo at companies where they're allowed: a 2013 study found that Americans left 429 million vacation days unused that year, amounting to about 3.2 days per worker. As a result, changing the nation's relationship with vacations will require both companies and employees to rethink how they view work. This will likely be an uphill battle for the U.S., though, a nation in which 61 percent of employees admit that they continue to work even after they've come home for the day.
Questions:
Why have the number of American vacation days gone down over the past twenty years?
Why don't Americans use all the vacation days they do get?
Source: Jack Dickey, "Save the American Vacation," Time, May 21, 2015. Photo by: Luke Ma.