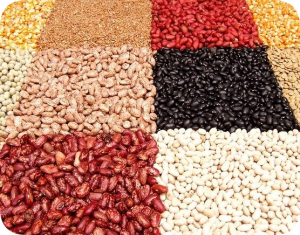 Although countless businesses have either altered their hours or closed up entirely, supermarkets around the country remain very busy as people gather supplies for their extended stays at home. Along with items like soap, hand sanitizer and toilet paper, Americans are also stocking up on foods with long shelf lives. As a result, sales of dry goods like beans are skyrocketing. "In one sense, this is like my best dream," said Tim McGreevy, the leader of a trade group for producers and packagers of beans. "In another sense, you go, 'Wow, this is pretty serious.'"
Goya Foods says that sales of canned beans have recently risen by a whopping 400 percent. In fact, last week the company delivered more than 24 million cans to retailers across the nation. "I've seen earthquakes and hurricanes. This is the first time I've seen this," said Goya president Bob Unanue. "This is a tsunami, this is a hurricane that's not hitting one market. It's hitting all markets." Many bean businesses are adding extra staff to meet the increasing demand. For example, a California-based bean supplier named Rancho Gordo typically received a maximum of 200 orders per day before the coronavirus pandemic. Then in mid-March the company got hit with more than 1,600 orders in one day followed by 1,450 orders the next. Rancho Gordo has hired extra employees to work a new night shift, but the company is still warning customers to expect delays. 
With Rancho Gordo sometimes selling as many beans in a morning as it would in a normal day, founder Steve Sando is experiencing a decidedly bittersweet stretch of success. "I'm taking no joy in this, to be honest," said Sando. "It's born out of fear. I mean, I love the sales. But food should be something you feel good about." While stay-at-home orders related to coronavirus have certainly caused the recent spike in sales, dry beans have also been steadily growing in popularity with health-conscious consumers seeking out meat alternatives. With many consumers now stocking beans in their "pandemic pantries," though, this unfashionable food will likely become far more familiar to American eaters in the months to come. 
Questions:
Why has demand for dry goods like beans skyrocketed in recent weeks?
How are bean producers and suppliers dealing with the rising demand for beans?
Source: David Yaffe-Bellany, "A Boom Time for the Bean Industry," The New York Times, March 22, 2020.