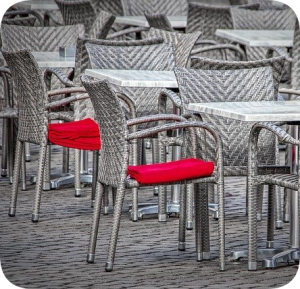 After the federal government placed a ban on gatherings of ten or more people last Monday, restaurants and bars across the country either closed or drastically altered their operations. Although such measures are necessary to contain the spread of coronavirus, countless businesses have had to furlough workers or lay them off entirely as a result. In fact, statistics released by the Labor Department this morning found that a record 3.3 million Americans applied to receive unemployment benefits last week.
That number far surpasses the previous record of 695,000 new jobless claims made in 1982 when the country faced high inflation. While analysts predicted that the unemployment rate would reach new highs due to fears surrounding COVID-19, few expected that claims would reflect such "widespread carnage," as one University of Chicago economist described it. Even worse, the actual amount of newly unemployed people likely exceeds the current number of claims since self-employed and gig workers are not currently eligible for unemployment benefits. "This morning's jobless claims confirm that the United States is in the thralls of a catastrophic unemployment crisis, the likes of which we haven't seen since the Great Depression," said Andrew Stettner, an analyst at the Century Foundation.
In order to provide struggling Americans with some relief, last night the Senate passed a $2 trillion economic stimulus bill that includes provisions allowing self-employed workers to apply for unemployment. Along with increasing unemployment payments, the bill will also provide people earning under $75,000 a year with a check for $1,200. However, some are concerned that Americans will not receive this needed money quick enough. With rent due for millions of people on April 1, experts predict that this situation could get worse before it gets better. 
Questions:
Why did 3.3 million Americans apply for unemployment benefits last week?
Do you think legislators should provide struggling Americans with more relief? Why or why not?
Source: Heather Long and Alyssa Fowers, "A Record 3.3 Million Americans Filed for Unemployment Benefits as the Coronavirus Slams Economy," The Washington Post, March 26, 2020.