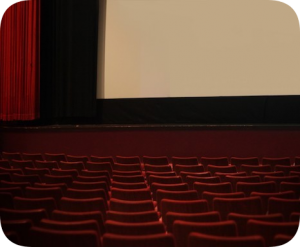 With movie theaters across the world closed due to coronavirus containment, experts predict that the global film industry could lose as much as $15 billion this year. China shuttered more than 60,000 theaters in January right before the annual Lunar New Year holidays, a boom period that usually brings in $2 billion in box office sales. Meanwhile in the U.S., AMC Theatres recently announced that it has furloughed its CEO and corporate staff after the company closed more than 1,000 theaters earlier this month. An AMC spokesperson said the measure is "absolutely necessary to preserve cash and to ensure that AMC can reopen our doors once this health crisis has dissipated."
While sales have stopped entirely for many film exhibitors, movie studios are trying to recoup their losses by offering new titles on-demand. Recently released movies like Emma, Bloodshot, and The Invisible Man are now available through Amazon and iTunes. These services charge $20 to rent new movies, almost double the price of older films. While some studios plan to release titles online according to their previous schedules, others are delaying big-name franchises until later in the year. For instance, Marvel pushed back the release of Black Widow until May, and the new James Bond film won't be in theaters until Thanksgiving. 
Of course, it remains to be seen how many exhibitors will be in operation by that time. With no money coming in from ticket sales or concessions, some movie theaters might not be able to reopen their doors. To help struggling exhibitors during this uncertain time, the independent movie distributor Kino Lorber recently launched a streaming service that also generates revenue for local theaters. Called Kino Marquee, viewers can visit the websites of more than 150 participating theaters to purchase $12 "tickets" for first-run independent films. By making money both for filmmakers and exhibitors, this "Virtual Theatrical Exhibition Initiative" could sustain many suffering small theaters through the coronavirus crisis. 
Questions:
Do you think that movie studios should continue to release new titles on-demand in the long term, not just during this crisis? Why or why not?
How does the Kino Marquee streaming service benefit both filmmakers and independent movie theaters? 
Sources: Chris Lee, "Stream an Indie and Support Your Local Movie Theater Too," Vulture, March 19, 2020; Justin Harper, "Will the Coronavirus Change the Way We Watch Films?" BBC, March 25, 2020; "AMC Theatres Furloughs CEO, Corporate Employees Due to Virus," Reuters, March 25, 2020; Mary Meisenzahl, "How to Watch Movies Available to Rent Much Earlier Than Expected as Theaters Shut Down Due to Coronavirus," Business Insider, March 26, 2020.