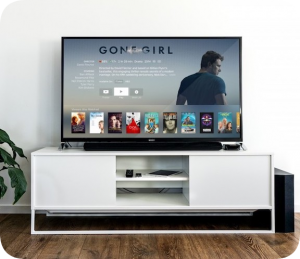 With movie theaters closed across the country due to coronavirus containment, millions of Americans are streaming video in order to stay entertained. According to analysts, the time spent watching streaming video has steadily increased every week since stay-at-home orders went in place earlier in the month. During a seven-day period in mid-March, viewing sessions on Vizio's smart TV platform rose by a whopping 40 percent over the previous week. "We're not just seeing more time spent with streaming and TV, which we expect to continue to go up, but we're also seeing more time spent on search and discovery," said Vizio executive Mike O'Donnell. "With no sports and growing news fatigue, people are starting to search for more content to watch."
As streaming platforms gather more viewers, they also receive more available ad time that can then be sold to sponsors. An online marketing company called SpotX said ad inventory for streaming television increased by 25 percent from March 12 to March 24. But while platforms now have more available ad time than ever before, many are having trouble filling it. With much of the economy currently ground to a halt, companies are concentrating on staying afloat in the short term rather than spending money on marketing. "We have had straight cancellations; we've had clients postponing campaigns," said SpotX vice president Mike Evans. "The volatility first and foremost—and the obvious one—is in travel. That's taken a massive hit. I don't know how that's going to continue."
In fact, travel and hospitality marketers cut their ad spending with SpotX by more than 70 percent during one week in March. Restaurants and concert venues have similarly stopped purchasing streaming ads while they remain closed. Although viewership for TV news has skyrocketed in recent weeks, some advertisers are uncomfortable with associating their products with potentially bleak stories about the world. Still, SpotX said that it has seen some bright spots, such as a four-fold increase in video game ad spending and an 89 percent rise in alcohol ad buys. "We're getting an influx of requests from advertisers following the cancellation of live [sports]," said Evans. "They had all of this money allocated to major sporting events such as March Madness and the NBA. All of a sudden, they have to figure out what the reallocation of that is and what that looks like—or if spend just goes down."
Questions:
Why has ad spending on streaming platforms decreased despite a significant rise in viewership?
What sort of companies are cutting their ad spending during the coronavirus pandemic? Which companies are increasing ad spending? 
Source: Sahil Patel, "Coronavirus Quarantine Boosts Streaming Video, but Not Advertising Yet," The Wall Street Journal, March 26, 2020.