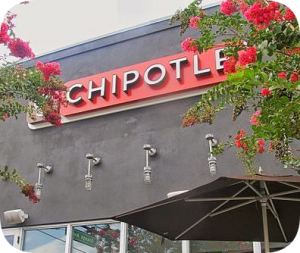 The national unemployment rate is currently at 3.5 percent, its lowest point in decades. As a result, retailers and restaurant chains across the country are having a difficult time finding workers to fill low-wage positions. "Understaffing is a massive problem," said Jonathan Maze, executive editor of Restaurant Business Magazine. "You have companies that are stressed to try to fill hours and keep people on, and it can lead to violations." 
According to a recent ruling from a Massachusetts court, that's precisely what Chipotle did over the course of a four-year period. From 2015 to 2019, authorities estimate that the burrito chain committed more than 13,000 child labor violations in the New England state. The investigation found that Chipotle had regularly allowed dozens of 16- and 17-year-old employees to work nine-hour shifts and 48-hour weeks. Teenagers told authorities that their hectic work schedules prevented them from keeping up with school, with Chipotle often refusing to grant time off for illnesses. The Massachusetts court fined the chain $1.3 million for these offenses along with an additional order for Chipotle to pay a $500,000 to fund training and education for young workers.
"Chipotle is a major national restaurant chain that employs thousands of young people across the country and it has a duty to ensure minors are safe working in its restaurants," said Massachusetts Attorney General Maura Healey. "We hope these citations send a message to other fast food chains and restaurants that they cannot violate our child labor laws and put young people at risk." In August, Massachusetts also hit the Mexican chain Qdoba with a $500,000 fine for more than 1,000 child labor violations. Meanwhile, two weeks ago federal authorities fined a Wendy's franchisor with restaurants in nine states for allowing teenagers to work extended hours. "In good times or bad times, it's always easier to get a little bit more on the backs of the employees," said employment lawyer Brian Heller. "When you have a business that's based on employees doing low-level work, it can be easy to ignore the laws that are there to protect people."
Questions:
How can problems with understaffing negatively affect companies and workers? 
Do you think more states should follow Massachusetts' lead and pursue legal action against companies that are potentially violating labor laws? Why or why not? 
Sources: David Yaffe-Bellany and Mihir Zaveri, "Chipotle Is Fined $1.4 Million in Vast Child Labor Case," The New York Times, January 28, 2020; "Chipotle Fined $1.3 Million Over Child Labor Abuses," Associated Press, January 28, 2020. Photo by Miosotis Jade.