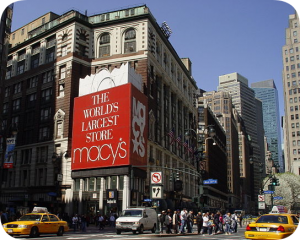 As the country's largest department store chain, Macy's has hundreds of locations nationwide and earned more than $25 billion in sales in 2018 alone. Still, the last few years have not been easy for the retailer as more consumers turn to e-commerce outlets like Amazon for their shopping needs. Meanwhile, discount retailers like TJ Maxx and fast-fashion brands like H&M are also winning over shoppers with wide selections and great deals. After struggling to keep up with all of this growing competition, Macy's announced this week that it will close 125 stores and lay off about 2,000 workers.
Along with shuttering approximately one-fifth of its locations, the retailer will also close its Cincinnati headquarters and move operations to its flagship HQ in New York City. Macy's plans to shut down a number of offices around the country as well, which will reduce its corporate and support staff by 10 percent. "The changes we are making are deep and impact every area of the business, but they are necessary," said Macy's CEO Jeff Gennette. "We are taking the organization through significant structural change to lower costs, bring teams closer together and reduce duplicative work." Macy's plans to invest these savings into its best performing stores as well as its online and mobile capabilities in an effort to appeal to younger consumers. 
The closures will take place over a three-year period and will focus primarily on stores located in "lower tier" malls. Department stores like Macy's were once the anchors of these shopping centers, but the rise of e-commerce has taken a major toll on many malls. In fact, analysts estimate that a quarter of all American malls will close by 2022. "Although this is prudent and sensible for Macy's, it is a bad sign of where some of the country's second- and third-tier shopping malls are headed," said Neil Saunders of GlobalData Retail. "When a major retailer like Macy's or Sears or JC Penney closes, it weakens the viability of the shopping mall and gives people even fewer reasons to stop in." 
Questions:
What factors contributed to Macy's decision to close more than 100 stores? 
Why is Macy's plan to close one-fifth of its stores bad news for many American malls?
Source: Abha Bhattarai, "Macy's is Closing 125 Stores and Laying Off 2,000 Employees," The Washington Post, February 4, 2020. Photo by Martin Dürrschnabel.