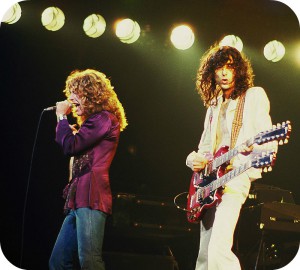 Two years ago Led Zeppelin made headlines after the band got hit with a lawsuit concerning their most iconic song. According to the complaint, songwriters Robert Plant and Jimmy Page stole the opening guitar riff to "Stairway to Heaven" from a short instrumental called "Taurus" by the American psychedelic band Spirit. While Led Zeppelin's members denied any wrongdoing, cultural commenters pointed to the band's history of plagiarism and previous legal battles. What's more, the lawsuit appeared just months before another court awarded Marvin Gaye's family $7.4 million after it found that Robin Thicke's "Blurred Lines" infringed on Gaye's "Got to Give It Up."
With these less than ideal conditions in place, some observers thought that Led Zeppelin could have a costly case ahead of them. But on June 23 a Los Angeles court ruled in favor of the English rockers and rejected all claims to "Stairway to Heaven" by the estate of deceased Spirit guitarist and "Taurus" composer Randy California. The plaintiff's lawyer apparently tried to paint Page and Plant as session musicians who simply lifted any riff that they enjoyed. That argument didn't stand up in court, however, as the two Led Zeppelin members calmly told the jury about how they developed the song in the early 1970s.
Testimony from musicologists also gave credibility to the pair's claims. On the plaintiff's side, experts demonstrated how "Stairway" and "Taurus" both share the same chord-progression and duration of notes. According to the defense, though, this information was irrelevant since musicians have used variations on this same descending melody for centuries. In fact, the song "Chim Chim Cher-ee" from Disney's Mary Poppins relies on a chord-progression that's similar to the contested "Stairway" riff. "He didn't create the key of A-minor," said defense attorney Peter Anderson about the plaintiff's claim. For the music industry, the conclusion of this case is far more preferable than the pricey "Blurred Lines" decision. Nevertheless, the differing outcomes of both cases place future courtrooms in a bind as far as precedent is concerned.
Questions:
Listen to the beginning of Led Zeppelin's "Stairway to Heaven" and Spirit's "Taurus." Did the plaintiff have a good case or are the similarities between the two songs coincidental?
How could the differing outcomes of the "Stairway to Heaven" and "Blurred Lines" cases affect future legal decisions concerning music authorship?
 Source: Rory Carroll, "Led Zeppelin Cleared Of Stealing Riff For Stairway To Heaven," The Guardian, June 23, 2016. Photo by Jim Summaria.