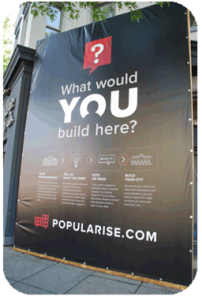 Even in this increasingly web-based world, the old saying, "Location, location, location," still means something. As many long-dormant urban areas become revitalized, companies are squaring off to snap up space. Developers in Washington, D.C., have figured out a way to harness social media to determine the tenants of these valuable new properties. Called Popularise, this new startup allows citizens to vote online for the businesses they'd like to see in their community.
According to Popularise founders Ben and Dan Miller, using crowdsourcing in the real estate market provides a host of benefits to companies and developers alike. First of all, it gets the public more involved in their community's growth. Popularise properties display big signs that ask, "What would YOU build here?" along with a link to the website. People can then submit ideas for businesses they want in the neighborhood or vote on any existing plans. Once the deadline has been met and the votes are counted, the property owners decide which companies get the space. Although they are not obligated to choose Popularise's suggestions, the site's findings offer an invaluable look at the consumer needs and demands of the local public.
Like many online startups, finding a way to monetize Popularise isn't so easy. The Millers own an investment company called WestMill Capital that currently funds the operation, along with an array of real estate ventures across D.C. Eventually the founders hope to implement a subscription model where developers would pay to list their properties on the site. The retailers and developers who have tested Popularise so far laud the service, even if they don't always go with the public's first choice. After all, Ben Miller says the site hosts a "conversation, not an election." Still, Popularise faces some opposition from a force of the old world: the neighborhood meeting process. Some activists feel that Popularise could exclude those who are active in their communities, but who not necessarily computer-oriented. Additionally, the site tallies votes from any citizen, regardless of whether or not they live in a proposed property's neighborhood. In the end, the people behind Popularise may have to find a way to negotiate their new media vision with traditional neighborhood institutions if they want to succeed.
Questions:
Should an entire community vote on development issues or just people in the area?
Do you think Popularise will grow into a financially successful venture?
Source: Olga Khazan, "How Popularise Brought Crowdsourcing to the Commercial Real Estate Market" The Washington Post, June 1, 2012. Photo courtesy of Adam Fagen.